Ultrasound Probe Repair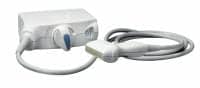 MEDRAD, Warrendale, Pa, has added seven Toshiba ultrasound probes to TotalRepair, a repair solution for 90 of the most popular ultrasound transducer models. TotalRepair helps biomedical and clinical engineering professionals reduce service costs and mitigate financial exposure by focusing on repair rather than replacement, and by providing a capped "worst-case scenario" repair price before MEDRAD ever sees the probe. MEDRAD repairs defective probes and returns or swaps them for a tested replacement. Swapping probes requires only a single transaction and removes the risks of keeping track of a loaner. TotalRepair is supported with a 6-month warranty for standard and 3D/4D probes, and 90 days for transesophageal, or TEE, probes.
(800) 633-7231
www.medrad.com
---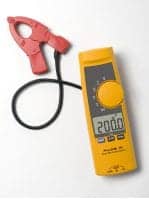 Clamp Meter
Fluke Corp, Everett, Wash, offers the Fluke 365 detachable jaw true-rms AC/DC clamp meter, a member of its family of clamp meters. The Fluke 365 clamp meter has a thin, small jaw design that makes it easy to get around tightly packed wires. The current clamp jaw is detachable, making it more convenient to access wires in difficult spaces, while holding the clamp meter body where readings are easy to see. The Fluke 365's compact jaw measures current up to 200 A AC and DC while allowing easy access to wires in PLCs and other tight spaces. The Fluke 365 measures up to 600 V AC and DC and provides 6000-ohm resistance measurement and continuity detection. The meter utilizes state-of-the-art signal processing for stable readings in noisy electrical environments. The meter also features a backlit display and built-in flashlight to help illuminate the work location. The meter is safety rated for use in IEC/EN 61010-1:2001, CAT III 600 V environments.
(800) 443-5853
www.fluke.com
---
Electrosurgery Analyzer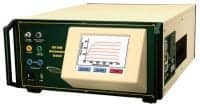 BC Group International Inc, St Charles, Mo, will move into a new age of testing with its latest software that will allow its ESU-2400 electrosurgery analyzer to not only record data from testing, but to actually run the ESU that it is testing, relieving the biomed from the hassle of setting up the device under test, or DUT. The ESU under test and the ESU-2400 will now be able to communicate. When authorized by the operator, the ESU-2400 will automatically set up itself and the ESU under test, trigger the test, analyze and record the data, and generate the report.
Also, BC Group will soon make available to the end users downloadable prewritten factory-approved preventive maintenance and calibration routines.
(888) 223-6763
www.bcgroupintl.com
---
Temperature, Humidity Sensor Tags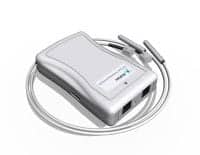 Ekahau Inc, Reston, Va, offers three wireless temperature and humidity sensor tags that provide an automated way to measure, monitor, and manage areas where changes in the environment could be harmful. Wireless and battery powered, the Ekahau tags eliminate cabling for power and connectivity. Ekahau's two new temperature sensor tags—the TS1, a single-probe tag, and the TS2, a dual-probe tag—have extended cable probes that can be installed inside the environment where temperature is being measured. Depending on the probe, the tags' temperature range is from -328°F to +302°F. The HS1 humidity sensor tag includes on-board sensors that measure relative humidity ranging up to 100%. The TS1, TS2, and HS1 tags all offer audible and visual alarm indicators on the tags themselves, and allow for programmable alarm limits and local data logging. Continuous data logging saves the measurement data, even in the event of a network outage.
(866) 435-2428
www.ekahau.com