Given the various challenges facing existing, successful local and regional clinical/biomedical associations, starting a new society from scratch seems like a daunting task. Challenges abound, such as building a membership—and keeping them involved—producing a Web site, securing financial and other resources, and creating educational opportunities. In the case of the nascent Armed Forces Biomedical Society (AFBS), which focuses its membership and mission on biomeds who currently or formerly support(ed) the US Department of Defense (DOD), it has one more challenge to deal with: connecting with a membership base that spans not only this country but also the world.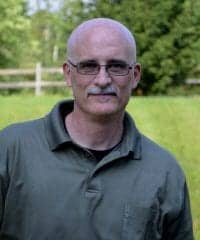 Bill Sovitsky, CBET, CRES
Bill Sovitsky, CBET, CRES, vice president of the AFBS, had the original idea for the society, which is currently based in Fort Detrick, Frederick, Md. Because of a lack of a biomed society in close proximity, as well as reflections on his own time as a DOD biomed, Sovitsky believed there was a need for an association like the AFBS.
"I started talking to a lot of the BMETs and clinical engineers here at Fort Detrick," Sovitsky says. "I just felt like there was a concentration of biomeds and clinical engineers that work with the Department of Defense here."
Despite the society focusing on the challenges and issues facing biomeds and clinical engineers in support of the DOD, the association does not actually have an affiliation with the DOD or the US military. Instead, it aims to address the unique issues facing military clinical engineers and biomeds across the country and around the globe.
"Obviously, one of the major challenges for us is having a field hospital," Sovitsky says. "You have a hospital sitting in a desert in Iraq or sitting in a jungle, and there are a lot of challenges: getting the equipment, supplies, and support for maintaining equipment to the facility. Not only do you have to have the equipment that's going to survive in that environment, but also you need to have a trained biomed who has test equipment, tools, and consumables."
The association must also work with a rotating membership. "There's also a challenge in the military because of the turnover," Sovitsky says. "There's turnover in the outside world, too, but I think it's a little more pronounced in the military. You have young BMETs come into the service. They get trained, they get out into the field and get experience, and there's a certain percentage of those BMETs that then go to the civilian world when their requirements are over—which is perfectly fine."
Connecting the World
How then can a biomed society based in Maryland connect with biomeds in California, let alone Afghanistan? Despite being a new society, AFBS already boasts an active and well-designed Web site and intends on using it, along with social media networks like Twitter and Facebook, as the catalyst for its national and international membership. And while the site is currently short on resources, Sovitsky has a plan for improving the site's worth.
"We really want to work on our Web site," he says. "We want to record our meetings and put them out there so that if someone couldn't make the meeting, they could watch it later. We want to have all of the training presentations on our Web site so that if you miss a training presentation, you can find that. As we have more meetings, we'll have more resources. But it's going to take some time to build that."
Diego Gomez-Morales, the current president of the AFBS, shares a similar sentiment about the society's mission and Web relevance.
"The mission of the society was to provide some type of medium or place to improve the education of our medical maintenance community, one specifically aimed at the folks that do not have the time and resources to put together some type of training online," Gomez-Morales says. "The idea was to create this venue where people, not just from one site but all the folks in the DOD conglomerate, could benefit from this information. We want people to come back and provide feedback and share information on biomedical equipment and challenges."
Engaging Members
In addition to these unique problems, the AFBS also faces the same issues that every biomed association contends with. From maintaining an active membership to capital constraints to providing quality educational opportunities and scheduling meetings, the AFBS acknowledges the obstacles.
According to Sovitsky, the association must always try to convince members that the association brings value to them and that it is worth their time. "Biomeds are busy with their lives and their work, so the challenge is to convince them that there's something here for them," he says. "There's the financial part of it, too. You want vendors to provide for you and help you, but you don't want them to take over your society, either. You have to keep your society free of getting too involved with one vendor or too affiliated with one group of vendors. You need to keep your independence."
To address those difficulties head on, the AFBS leadership has actively marketed its offerings to biomeds by attending conferences and spreading news of the society through word of mouth. A major initiative of Gomez-Morales is to offer CBET training courses to biomeds in an effort to build relevance and membership. In addition, the Webcasting and recording of the meetings will go a long way toward building a national and international audience.
According to Sovitsky, this long process takes time, commitment, and capital. Whether or not the society will still fire on all cylinders in the coming months and years is yet to be seen, but both Sovitsky and Gomez-Morales have a similar, attainable view of how the AFBS will function in the future.
"I see a society that's going to be more stable, have more members, and have more resources for the DOD biomedical community," Gomez-Morales says. "Right now, we're still only with the folks in the Fort Detrick area. But the minute that we get these tools online, my intent will be to advertise to the entire biomedical equipment specialist community."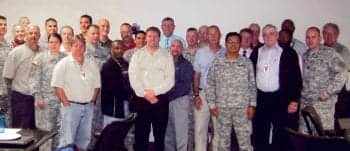 The Armed Forces Biomedical Society's first meeting.
"I would hope that we could have more local members that show up to our meetings," Sovitsky says. "I would like to see 40 to 50 members from the local area showing up to the quarterly meetings. But I would also like to see that amount virtually. If we could attract a few young BMETs over time, we'll grow and the message will get out there that there's something out there and it can help them. I think it is attainable, but it's also to be determined. Time will tell whether or not we can get momentum going. There's a challenge keeping membership up and keeping members interested and involved, even with the BMET societies that have been around for years. I don't think that challenge is going to go away."
Despite these aspirations, Sovitsky remains grounded in his expectations, understanding that most biomed associations grow slowly and organically, yet he does know it is possible to successfully integrate into the biomed community.
By Sovitsky's estimation, there have been about 25 or 30 people at its meetings, showing that the AFBS is engaging the community and getting responses.
Read past Focus On articles in the 24×7 online archives.
"People are saying they can't make it to the meetings but they really like what we're doing," Gomez-Morales says. "They're saying, 'Please keep sending out the e-mails and keeping us informed.' They're not telling us to go away."
"It's about getting the name out and developing the resources at the same time," Sovitsky says. "We're very young; we're just getting up and running, but I'm happy right now. I think we've been successful for the amount of time that we've been around. We need to be patient. This is going to take some time and take a lot of people's efforts. It's not going to happen overnight."
---
Chris Gaerig is the associate editor of 24×7. Contact him at .