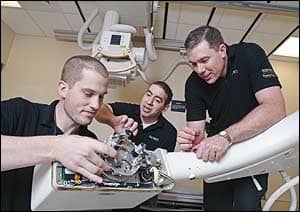 L-R: Jacob Staheli, biomedical equipment technician; Joseph DiVito, director, clinical engineering; and James Young, biomedical equipment technician.
Two hospitals, three biomeds, and 3,500 pieces of medical equipment all add up to an undeniably heavy workload. It was not always that way at 139-bed Pioneer Valley Hospital and 172-bed Jordan Valley Medical Center, both located in northern Utah.
Just 9 miles apart, the two facilities once had the luxury of four biomeds and a service coordinator patrolling the halls. However, more than 2 years ago Jordan Valley Medical Center and Pioneer Valley Hospital merged to become one hospital with two campuses. This allowed staff to be shared between the two facilities, an arrangement that yielded a more efficient use of hours and experience.
Joseph DiVito, director, clinical engineering, had already worked hard to institute solid time-management principles, but a 40% reduction in manpower meant that he and his two remaining employees would have to do even better. With the help of biomedical technicians Jacob Staheli and James Young, the work continued to get done, and patient care has not suffered.
Even though DiVito, Staheli, and Young perform about 85% of the workload—with the rest tended to by an independent service organization (ISO) and original equipment manufacturers (OEMs)—amazingly, the piles of work orders do not last long.
Does DiVito ever wonder about doing the job too well? After all, if administrators see the same productivity from three, why bother upping the staff to the original five? "The thought has crossed my mind," DiVito says. "But I think we have proven that we eventually will need another body. Although patient care has never been compromised, the turnaround time for corrective maintenance work orders has begun to increase. And keeping up with preventive maintenance has been a challenge."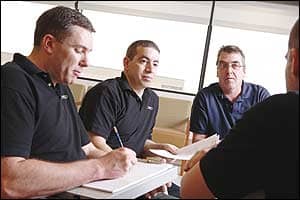 L-R: James Young; Joseph DiVito; Cole Julian, facility director; and Jacob Staheli. With two hospitals and 3,500 devices to maintain, the team rely on one another and the coooperation of other departments such as administration, clinical directors, materials management, IT, and plant operations.
DiVito tries to visit each department two or three times a week, but now he might not hit an area for 2 weeks. "People don't see us as often, and I usually get comments such as, 'Where have you been?' " he says. "They still get timely service when they request it through normal channels, but other ancillary services tend to suffer, such as researching used equipment for purchasing, and little jobs such as tightening screws on cabinet doors, or unjamming a printer in a department that we are walking through—which are not typical biomed jobs—but help get the unit back to running normally."
With Staheli at Pioneer most of the time and Young at Jordan Valley, DiVito usually ends up where the need is strongest. For now, however, the idea of extra help often goes below the radar. "I remind management about the possibility of extra help," DiVito says. "We just hired a new service coordinator and are sharing the position with plant operations. That will be clerical work, and it will help."
Chalk it up to the perils of doing a great job with so few, but even three motivated guys cannot get it all done. An ISO picks up the slack and routinely handles sterilizers and anesthesia equipment. The OEM handles a lot of the radiology equipment, which includes two 64-slice CT scanners with a table weight capacity of up to 400 pounds. A da Vinci surgical robot and interventional heart care machines, including cardiac catheterization equipment, are also taken care of by the OEM.
As is the case with so many biomeds these days, DiVito's team has been lassoed into dealing with various problems related to nurse call equipment and satellite televisions. "One plant operations division was shorthanded more than the other," DiVito says. "So we took over TV repairs and now the mechanical beds in that facility. We always had ICU beds, but now we are doing the others as well."
When you factor in the televisions and beds, the 3,500 total trackable items is actually closer to 4,000. That number is split roughly evenly between Pioneer and Jordan Valley, but Staheli and Young will make the 25-minute commute (more if traffic is snarled or snow is heavy) when needed.
Making it Work
Having to service 3,500 pieces of medical equipment in two hospitals is a tall order for a department of three. Yet, despite new projects and tasks, this team stays on top of its workload. James Young, a biomed technician at 139-bed Pioneer Valley Hospital and 172-bed Jordan Valley Medical Center, both located in northern Utah, shares more tips on how he and his colleagues get the job done.
24×7: What type of equipment planning do you do?
Young: We research equipment to make sure that it will meet the requirements of the end user and meet organizational requirements such as budget, serviceability, standardization, integration, service contracts, purchasing contracts, training, and upgradeability.
24×7: How do you guys make it work overseeing two facilities with just three biomeds?
Young: We can't do it without the cooperation of administration, including the CFO, clinical directors, materials management, information systems, and plant operations. An x-ray machine is an example of equipment that would require everybody's input. Communication between all the relevant parties on many different issues is crucial.
24×7:What costly mistakes do you suggest departments make sure they avoid?
Young: Avoid purchasing equipment if you don't have test equipment for it, or get the test equipment put into the capital request as well. Do not choose equipment that lacks standard accessories. Don't forget to request training on new equipment.
24×7:Are electronic medical records (EMRs) coming to your facility, and are you involved with implementation?
Young: We have a version of an EMR that is a McKesson HED that is used within the corporation. We ensure our equipment can connect and communicate to this EMR system, but we are not involved beyond that.
24×7:Do you use asset tracking?
Young: Yes. We tag every piece of equipment with a bar-coded number and put it in Harvest CEMS. We currently do not have an RFID asset tracking system, but would love to have one. We use different color preventive maintenance stickers that change yearly to help us identify equipment due for PMs.
24×7:How do you find equipment in two hospitals while being shorthanded?
Young: We do a lot of searching and ask people to help us locate equipment. Most equipment has a home, so we always start looking there first.
24×7:How heavily do you rely on nurses to help find equipment?
Young: We rely on anyone who can tell us where the equipment is—nurses, technicians, directors, and housekeepers. We have our go-to people who seem to know a lot of the hiding places.
—GT
Tips and Training
Few dispute the notion that training is vitally important, perhaps even more so when few biomeds are on staff. According to survey results recently published in the December 2009 issue of 24×7, 36% of technicians reported that they had no opportunity for training, up from 29% in 2008. A combined 64% reported that they had received from 1 to 40 hours of training in the past year. DiVito and his staff members agree that finding money in the budget for training is always critical.
"We look for local sources, free training, cross training, and Webinars," Young says.
DiVito prefers OEM training, but due to budget constraints, Young and Staheli have been limited on the training that they can take. "I recently sent James Young over to do some local training for Skytron operating room tables and lights," DiVito says, who has been in the biomed field for almost 2 decades.
If there is room in the budget to buy new equipment, DiVito recommends that biomeds get involved from the start to avoid mistakes. DiVito learned this lesson the hard way about a year ago when hospital officials ordered new patient monitors for the facility's newly built surgical center.
"They did not consider that the accessories we already had used different core SpO2 technology," DiVito says. "I was not too happy about that, because we would have had to stock a whole new set of compatible items. Different test equipment was needed, and it just makes our life and the user's life more difficult because of problems with the interchangeability of accessories. It just makes a mess, and they did not understand that when the order was placed. Some assumptions were made that were not correct, and assumptions are always a mistake."
The manufacturer ended up exchanging the items, but better communication could have prevented a lot of headaches. Even if you do make communication a priority, DiVito warns with a laugh, "someone is still bound to sneak something in."
With just three biomeds on staff, at least the odds of miscommunication go way down, and working with the information technology (IT) department can actually become streamlined. DiVito, Young, and Staheli work closely with IT on a lot of issues. For example, if there is a problem with electronic medical records (EMRs), they may get involved to ensure that the modalities are connected and functioning properly.
"We work closely with them to integrate imaging PACS," DiVito says. "We just changed our PACS program and we were heavily involved. Most of the equipment that we deal with gets connected to the network, and a lot of times we have to provide our technical expertise."
DiVito and company ultimately changed all the IP addresses for the modalities at Pioneer. They also coordinated with the imaging vendors and were able to send an image, confirm, and verify—not only that the image was sent, but also to get work lists operating and ensure proper operation. "Proper configurations of the IP address can be difficult," DiVito says. "It took several days and a lot of 12- to 15-hour days. The whole project took about 2 weeks. The administrators probably did not know the extent of our help with the PACS system, but my concern is just to get the job done and I'm not hung up on who gets credit."
Budgets and Bodies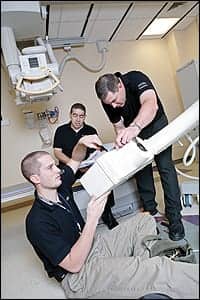 Teamwork in action.
Negotiating good service contracts are part and parcel of making ends meet under tight budgets. Save money on those contracts and DiVito says, "It will help us to eventually get the extra bodies." Until then, DiVito always asks for biomed training and he is a stickler about avoiding unnecessary extra costs.
"I don't like paying overtime," DiVito says. "I want as many hours as possible in the OEM service agreement without paying OT. A lot of the radiology is only covered 9 to 5, so I pushed for our CTs to be covered until 9 pm. We can do 'first call,' which reduces the price and provides my guys with experience. I always try to get at least a 3-year term, so I don't have to worry about renewing next year."
Working closely with vendors such as McKesson, DiVito and his staff are also helping with a cardiology PACS. The cath labs, nuclear medicine, and EKG machines are all going to be sending to a different PACS system, which amounts to a lot of work. This involves not only Jordan Valley and Pioneer, but, DiVito explains, his team will also be involved in helping with setup for the other two hospitals within IASIS Healthcare's Utah region. The additional hospitals in Utah are 225-bed Davis Hospital and Medical Center, Layton, Utah, and 168-bed Salt Lake Regional Medical Center, Salt Lake City.
"I'll go up to Davis to help them get their modalities setup for the PACS," DiVito says. "And we will help out at Salt Lake Regional when their biomeds are on vacation or are shorthanded. We will also share parts and test equipment."
Ultimately, the secret to getting it done is really no secret at all. It amounts to hard work and talented technicians who take pride in their work.
"The secret is that biomeds need to be unselfish and help each other out," Staheli says. "That's the only way to be a successful shop."
When the time comes to add additional employees, DiVito will attempt to find those same qualities. "It is difficult to squeeze in the time to do all this," DiVito says. "I have been blessed with these two guys here, and they are absolutely fantastic. They are independent and can handle virtually all the issues on their own."
---
Greg Thompson is a contributing writer for 24×7. For more information, contact .