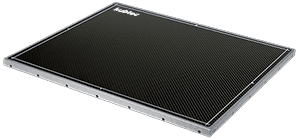 Kubtec, a designer and manufacturer of advanced digital x-ray systems based in Connecticut, has announced its release of the new 17-inch x 14-inch high-resolution wireless flat panel detector for medical imaging. The company reports that its Digiview 395 is lightweight, durable, and easy to use, with good imaging capabilities, and rapid image acquisition and display with wireless freedom.
Designed for versatility and portability, the Digiview 395 can be used anywhere medical imaging is required. It features wireless data transmission, allowing medical personnel immediate access to critical information for fast interpretation and diagnosis.
"Receiving FDA clearance for the Digiview 395 means radiology departments now have access to a tool that will aid them in delivering critical care at the bedside, in the x-ray suite or ER—or even in the field for mass casualty situations," said Tom Dziubeck, director of North American sales at Kubtec.
The Digiview 395 will debut at the AHRA 2015 (Association for Medical Imaging Management) Annual Meeting in Las Vegas, July 20–22 at Kubtec's booth (#1392). The Digiview 395 meets FDA, Canadian, and international requirements, and is available for commercial sale worldwide. For more information about the product, visit the Kubtec website.