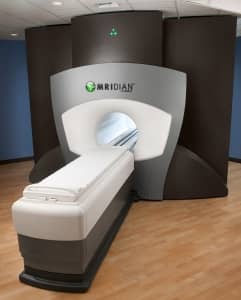 ViewRay has announced that the company's MRIdian system, an MRI-guided radiation therapy system that images and treats cancer patients simultaneously, is being featured in a broad selection of user presentations during the 2015 Annual Meeting of the American Association of Physicists in Medicine (AAPM). This year's meeting is taking place July 12–16 in Anaheim, Calif.
According to ViewRay, the MRIdian System is designed to improve the accuracy of cancer treatments through a patented combination of simultaneous magnetic resonance imaging (MRI) and radiation therapy delivery. With continuous soft-tissue imaging, clinicians can clearly see the cancer target, monitor where the actual radiation dose is being delivered, and adapt to changes in the patient's anatomy—all in real time while the patient is on the treatment table. This is said to provide a more precise and personalized cancer treatment.
For the event in Anaheim, AAPM has selected 20 abstracts reporting on real-world clinical experience with MR-Guided Radiation Therapy from three MRIdian sites. These oral and poster presentations will cover a wide range of topics including on-table adaptive treatments, real-time MR motion tracking, online Monte Carlo dose calculations, and several relating to system quality assurance.
A number of physicist users of the MRIdian system will present on their experience in ViewRay's booth (#1331) during the event, and ViewRay clinical applications experts will also be available to demonstrate treatment planning and delivery functionality of the system. For more information about the company's MRIdian system and for a schedule of in-booth presenters and presentations, visit the ViewRay website.