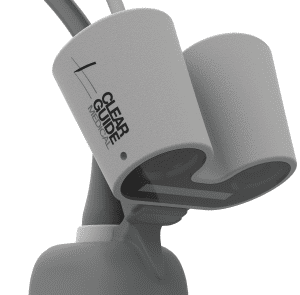 Clear Guide Medical announced that it has received FDA 510(k) clearance for its Scenergy CT-ultrasound fusion and image guidance system. The device, which assimilates with most ultrasound systems, enables physicians to perform minimally invasive biopsies and other diagnostic procedures through a display of fused ultrasound and CT images.
The company developed Scenergy to provide clinicians with a multimodality imaging technique using ultrasound that minimizes a patient's time in the CT suite—a goal, they say, that is in line with current clinical recommendations. By showing the clarity of CT with the real-time visualization of ultrasound, users experience the benefits of both modalities simultaneously. Plus, Scenergy doesn't require special needles or new imaging equipment, thus preserving the customary workflow and maximizing the productivity of existing capital equipment.
Although most fusion systems mandate complex registration processes, Scenergy eliminates this step through automation and advanced system fusion, which is continuously updated throughout the procedure. In addition, clinicians can effectively visualize and target deep and challenging lesions since CT is precisely overlaid on the ultrasound plane.
"The ability to see my target lesion clearly before, during and after a procedure means procedures can be reliably performed in ultrasound with real-time imaging, freeing up the CT suite for diagnostic imaging and mitigating exposure to ionizing radiation for the patient and staff," says Joseph Fonte, MD, a radiologist at the Boston-based Brigham and Women's Hospital. "This is a game-changer."
For more information about the Scenergy and its features, visit Clear Guide Medical's website.