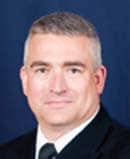 Lieutenant Commander Scott A. Colburn, RN, director of the standards program at the Center for Devices and Radiological Health, part of the FDA, Silver Spring, Md, has been elected to serve a three-year term on the ASTM international board of directors.
While working at St Luke's Medical Center, Milwaukee, Wis, Colburn attended Marquette University and he earned his Bachelor of Science in nursing in 1999. In 2000, he joined the Walter Reed Army Medical Center staff and became chief of vascular access services/PICC nurse from 2003 to 2004. In 2004, Colburn joined FDA CDRH as a nurse consultant. He became CDRH deputy director in 2009 and acting director in 2011. Colburn now manages the center's participation in developing test methods and performance standards for medical devices and oversees the CDRH staff.
Colburn joined ASTM International—an international standards development and delivery system—in 2011 and has affiliations with several committees, including E61 on radiation processing, F12 on security systems and equipment, and f29 on anesthetic and respiratory equipment.