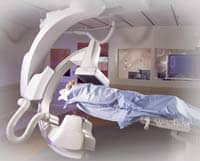 St Bernardine Medical Center in San Bernardino, Calif, recently opened a hybrid cath lab equipped with Toshiba America Medical Systems Inc's Infinix VC-i cardiovascular x-ray system and hybrid table. The flexibility of the Infinix-i system combined with the tilting and cradling features of the table enable a hybrid setting for both surgical and interventional procedures.
"Heart disease is the number one killer in our community and the new Toshiba hybrid lab provides our patients with the most advanced cardiovascular care available," said Ed Langdon, senior executive director, Inland Empire Heart & Vascular Institute (IEH&VI). St Bernardine's IEH&VI has received national recognition for the quality of care delivered to its patients.
According to Langdon, St. Bernardine's IEH&VI utilizes the Infinix-i system and hybrid table for various applications such as AAA stents, transcatheter aortic valve replacements, and vascular bypasses. Infinix-i also enables the hospital to conduct approximately 30% of its interventions using the radial approach, a safer and more efficient access point.
"The Infinix-i's access halo, which provides 180-degree unobstructed patient head-end access with an integrated hybrid table, enables physicians to diagnose and treat patients more safely, accurately and efficiently," said Stephen Bumb, director, x-ray vascular business unit, Toshiba.