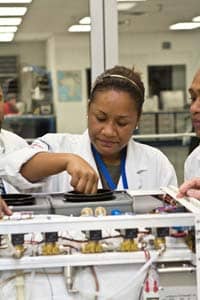 Martha PowaseuWomen from Papua New Guinea, Nigeria, Equatorial Guinea, and Kazakhstan have graduated from MediSend's Biomedical Equipment Technology Program and returned to their countries as health care professionals and community leaders.
According to MediSend, women worldwide play a critical role in the growth and stability of their communities and countries. Programs to lift women and girls from poverty and subjugation are proving to have significant impact, both politically and economically, in the developing world. However, widespread opportunities to achieve leadership roles in society are not always available to women.
MediSend empowers women through educational programs designed not only to prepare them to manage life-saving diagnostic and therapeutic medical equipment, but also to assume leadership roles in their hospitals and communities.
Tracey Mandawali and Martha Powaseu departed Papua New Guinea in the fall of 2012 to participate in the rigorous Biomedical Equipment Technology Program at MediSend's Global Education Center in Dallas. After six months of intensive classroom and laboratory training, and long hours of practical application, the two women returned to their hospitals.
"The laboratory where I work has no biomedical equipment technician," said Powaseu. "This is an opportunity for me to really help the laboratory and the people we are serving." She currently works in a pathology laboratory, but has aspirations of one day opening her own clinical laboratory in Papua New Guinea. "Thanks to this experience at MediSend, I return home knowing that my future holds more than I could have imagined. I want to pass my hope and optimism along to other women and girls in my community."
"Women train alongside men in our program in a real-world practicum and they invariably excel and move to the head of the class," said Costel Rizescu, PhD, director of MediSend's school. "They are serious and competitive and they are quite determined to succeed."
Previous graduate Cynthia Obarisiagbon, 2011 class valedictorian, now works as a lead biomedical engineer at the University of Benin Teaching Hospital in Nigeria. Felisa Nguema, also a 2011 graduate, returned to Equatorial Guinea as the first female biomedical equipment technician in the country. Assem Bismildina, a 2010 graduate, currently holds a leadership role in Kazakhstan's government effort to improve the quality of health care in her country.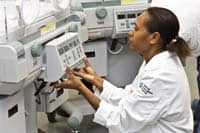 Tracey Mandawali