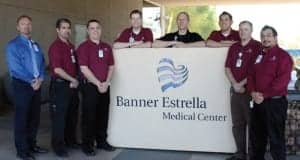 The clinical engineering services department team of Banner Estrella Medical Center.
Banner Estrella Medical Center
By Hollie Costello
The role of the clinical engineering services department at Banner Estrella Medical Center, a 214-bed acute care facility located in Phoenix, is dynamic—with a different need every day from multiple customers.
According to Kenny Downey, Jr, director of the clinical engineering services department, his eight-man team was honored with the Best of Biomedical Facilities award from 24×7 due to their active role at Banner Estrella and their positive relationships with their "customers," who include staff, physicians, and patients.
"We are always working to take care of our customers' requests," Downey says. "We round on the floors, we have innovated our processes to be more efficient with preventive maintenance, and we actively work with our shared leadership groups to help them with new projects that involve equipment and technology."
The award was well deserved, according to nominator Danielle Moreno, surgery scheduler with Banner Estrella's surgery department.
"Our clinical engineering services team serves our facility with pride and diligence," Moreno says. "They have a can-do attitude and are always available to help when we call. They really keep our department running smoothly by making sure all of our equipment functions safely and properly."
Clinical engineering services' role in the surgery department is easy to understand. The procedural area has rooms of equipment, from tables and anesthesia machines, to monitors, scopes, and instruments. However, the department team also works on smaller requests or nontechnological requests that make a difference to the day-to-day activities at Banner Estrella.
Special Recognition
In March 2012, the department was part of a shared leadership team that was recognized by the Banner Health system with a performance award for innovative spirit. They helped develop an "efficiency bundle," which included the deployment of 35 new computer-on-wheels that incorporated requests from nurses to make their bedside charting more staff-friendly. The clinical engineering services department investigated the computer carts, eventually recommending one with shelves and drawers to allow nurses to take care necessities with them to the bedside. The change proved to be a huge staff satisfier, eventually showing significant efficiencies that helped the group win the system recognition.
Other clinical engineering services department projects include tethering all pulse oximeter finger probes on the hospital's medical/surgical, PACU, PreOp, and surgery departments to the equipment. This simple change will save thousands of dollars in lost equipment, promoting both stewardship and efficiency. The department used the same intuitive spirit to tether the remote controls in high-volume areas, such as the emergency department and waiting rooms—a savings of hundreds of dollars in replacing equipment.
"Our clinical engineering services department is recognized throughout our Banner system as leaders in innovation," says Gary Foster, associate administrator for Banner Estrella Medical Center. "Other Banner hospitals are following their lead when it comes to preventive maintenance and equipment care."
In fact, due to Banner Estrella's high volume, the clinical engineering services department has had to be inventive in cleaning, maintaining, and replacing equipment in the patient rooms. They are now contacted, similar to environmental services, when a patient is discharged. This enables members of the department to be in the room as it is cleaned—checking equipment, monitors, and updating any technology that is prone to breakage.
In addition, due to cross training on the key room technology—such as beds or monitors—there is no downtime, according to Downey. This enables the hospital to run at top efficiency, yet enables the clinical engineering services team to retain a positive work-life balance.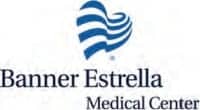 "We are often compared to larger facilities because we are more technologically advanced, with upward of 7,000 pieces of equipment we have to monitor," Downey says. "That is why we proactively encourage vendor education sessions and why reviewing the rooms as they are used has helped to create quick issue resolution."
"They are the best of the best, from our perspective," Foster says. "I'm so excited to see them recognized for their dedication to living our mission of making a difference in people's lives through excellent patient care."
---
Banner Estrella Medical Center
Clinical Engineering Services Department
Phoenix, AZ
(623) 327-4000
www.bannerhealth.com/estrella