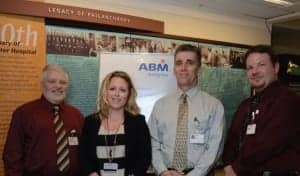 L-R: The Winchester team, Glenn Cobb, Jilyan Morano, John Roy, and Brian Haynes.
ABM Health Clinical Engineering
By David Tandet
Winchester Hospital, an award-winning health care facility in Winchester, Mass, has been a leading provider of comprehensive health care services in the northwest suburban Boston area for nearly 100 years.
ABM Health (previously Linc Health), Holliston, Mass, became part of that tradition when it began its contractual relationship with Winchester in 2004. ABM Health Clinical Engineer and Manager of Biomedical Engineering Jillyan Morano has led the ABM Health team at Winchester Hospital since 2006. Morano understood from the start that to provide the highest level of clinical expertise and operating efficiency, ABM Health had to be fully accepted as part of the Winchester organization. ABM Health has succeeded in that objective as a result of cultural synergies within both organizations. In fact, Morano and her team of skilled technicians have made it possible to work with Winchester Hospital as an integrated unit.
Can You Spot ABM Health?
"ABM Health is a contracted service, but the culture here is that we're part of Winchester Hospital," Morano says. "The biomedical team works closely with members of the hospital at every level."
Gerald Taylor, director of materials management at Winchester Hospital, has seen the difference ABM Health has made in the delivery of service. "Our institution has really embraced ABM Health. The members of the biomedical team are really perceived as employees of Winchester Hospital," Taylor says.
Morano herself has been with ABM Health since 2004. The three other members of Morano's team have worked with ABM Health, and at Winchester Hospital, for varying periods of time. BMET II Brian Haynes has worked with ABM Health for 6 years. For the last 3 years, he has helped keep the Winchester Hospital radiology department up and running.
BMET III John Roy, a seasoned technician but new to Winchester Hospital, has been a member of ABM Health for more than 12 years. Roy's extensive experience with ventilators, laboratory and maternal-child health equipment enabled him to hit the ground running. He quickly became a member of various teams and projects.
Glenn Cobb, a veteran BMET III, has called Winchester Hospital home for more than 30 years, and he has seen many industry changes. For the past 6 years, he has been an employee of ABM Health. Cobb has a thorough understanding of Winchester Hospital's needs, knowing what keeps Winchester Hospital running and what it takes to keep equipment operating in excellent working condition for patients.
Taylor feels that Morano's team has become an asset in areas beyond those that were previously viewed as a more traditional biomedical engineering department, and he welcomes the assistance.
"What's unique is that Jill is involved in everything we do, from capital planning to clinical equipment-integration planning," Taylor says. "She's meeting with the clinicians and coming up with optimal configurations for everything we purchase. Jill is part of everything we do here from an acquisitions standpoint."
As a result, procurement is more effective. "Our biomed department was primarily 'break/fix,' which met the need at the time," Taylor says. "Now, we don't make an equipment purchase without bringing in the key stakeholders, Jill being one of them. There's interaction with the end users and biomedical right away. Jill has the ability to access her colleagues within ABM Health, and that helps us determine if a particular piece of equipment could be problematic in some way. It's definitely a tremendous value in the procurement process.
An Integrated Approach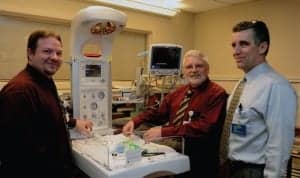 L-R: Brian Haynes, Glenn Cobb, and John Roy.
This collaboration also results in more efficient upkeep. "If Jill doesn't have the specific expertise, she has the resources of ABM Health to support her," Taylor says. "I work everything through the biomedical team, and they pull in the resources they need to get the questions answered."
"In a sense, Winchester Hospital doesn't have a biomedical team of four people; it has a biomedical team of over 100 people," Morano says. "We have access to ABM Health biomedical teams around the country. At Winchester Hospital, it's not like we have [only] one surgical robot, for instance, because there are many surgical robots throughout the various ABM Health clients, thereby creating additional intelligence in service approaches."
According to Taylor, in 2004 the hospital was not as advanced in terms of IT integration. "Before, the departments were more on their own to come up with what type of technology, clinical equipment, or IT integration needs they had," Morano says. "Now, biomedical engineering has a plan to make sure that every department's needs are met."
"Winchester Hospital and ABM Health got together at the best possible time," Taylor says. As equipment has become more software driven and integrated into the electronic health record (EHR), successful operations have become increasingly dependent on IT networks. Winchester Hospital's relationship with the entire ABM Health system has permitted biomedical services to keep up with the hospital's IT demand and other requirements in a number of significant ways. A constant flow of information is one of the main advantages of ongoing interaction among the ABM Health clients: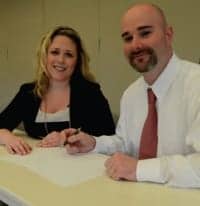 L-R: Jillyan Morano and Gerald Taylor.
ABM Health has regional directors and managers as well as a vice president of clinical engineering services. The higher-level administrators are highly involved in the development in different facilities. Directors/managers within the ABM Health team attend monthly focus meetings. At these meetings, administrators review what is taking place within the various accounts. In addition, outside vendors and a variety of other resources are brought in for educational purposes.
Informational issues are covered at the technician level, and knowledge is shared. As an example, Winchester Hospital might have had a piece of equipment for more than a year. If another hospital is just getting the same equipment, the Winchester Hospital team can provide management and troubleshooting tips. Common issues can arise, and the team can give advice regarding the important parts to have on hand for common repairs as well as various service approaches.
Groups of technicians from within ABM Health attend educational opportunities as necessary. This has translated into expanded knowledge for the Winchester Hospital team. "One of our technicians has an associate's degree in network engineering," Morano says. "The other technicians have completed network training courses, and all have completed a networking concept class. We each bring a unique understanding of networking." Their understanding will remain fluid as it continues to expand, thanks to ABM Health's emphasis on continuing education for all its BMETs. The Winchester Hospital team's increasing knowledge of networking will be especially helpful as Winchester Hospital implements its plans for the immediate future. An area of focus this year is increasing equipment integration and a vulnerability analysis of the clinical IT infrastructure.
"The biomedical team is aligned with what the clients' future needs will be. From our perspective, career training and education are critical to our service delivery," Morano says.
High-level networking strategies are built and risk assessments are regularly performed using tools developed within ABM Health. "A risk assessment tool for clinical networks that ABM Health has developed through our experiences with other clients was brought to Winchester Hospital," Morano says.
Winchester Hospital contributions have similarly benefited the rest of the ABM Health clients. Morano can provide other ABM Health teams with feedback relating to a number of significant clinical engineering items. Practical applications of original research can be used by BMETs throughout the organization.
Giving and Receiving
"Here at Winchester Hospital, I've been working with nursing on alarm management issues, which have been brought to the forefront in clinical engineering and nursing," Morano says. "I'm taking some of the work done at Winchester Hospital dealing with clinical alarms back to my colleagues at ABM Health. The strategies we've developed here are then able to be implemented at other ABM Health clients, directly benefiting patient care and safety. That's the strength of ABM Health's clinical engineering approach. Not only can we handle any sort of traditional biomedical engineering situation, but we have the skill set and experience to handle clinical engineering, project management, and IT-integration projects as well."
"We have a very high rate of satisfaction, not only with the management of the program, but also with the entire biomedical team among the clinical departments," Taylor says.
"The most significant aspect of the ABM Health culture in this regard is, 'Do it Right the First Time,' " Morano says. "This makes things better for the patient. It makes things better for Winchester Hospital. And it makes things better for ABM Health. That's the underlying theme, which is building value for our clients. This is why I think the cultures mix so well."
---
Winchester Hospital
ABM Health Clinical Engineering
Winchester, MA
(781) 756-2531
www.abm.comwww.winchesterhospital.org