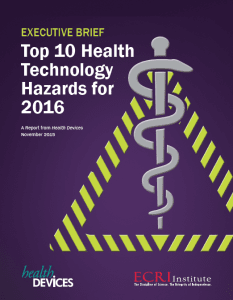 ECRI Institute has introduced a top 10 health technology hazards solution kit to help hospitals address the dangers previously identified in its top 10 health technology hazards for 2016. That list details dangers such as inadequately cleaned flexible endoscopes, alarm fatigue, insufficient patient surveillance, and poor clinician training on operating room technologies.
The solutions kit provides an overview of each topic on the list, recommendations and tips for reducing risk to patients, and a bibliography of resources for additional information on each topic. It reportedly also includes online access to resources typically reserved for ECRI members about how to address hazards on this year's list.
In addition, the organization has released an abridged version of the report on its website. This executive brief is available for free download by the general public. The full report can be accessed by ECRI Health Devices System, Health Devices Gold, and SelectPlus members.
For more information about the solutions kit, visit the ECRI website.