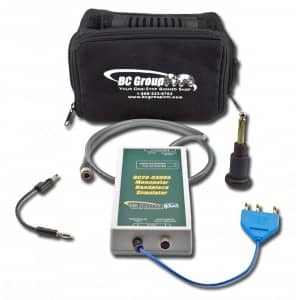 BC Biomedical, part of BC Group International, has announced the launch of the ConMed PM kit, a complete set of accessories needed to safely perform preventative maintenance procedures for the ConMed system 2450 and system 5000 electrosurgical unit generators. The kit has three pieces, including a port adapter, 3-inch jumper cable, and the Monopolar Handpiece Simulator.
The kit reportedly works with BC Group's ESU-2400 series of electrosurgical unit analyzers. The port adapter allows test leads with standard safety jacks to connect to the ConMed systems 2450 and 5000 model generator's combination monopolar output.
The Monopolar Handpiece Simulator is a new accessory for the ESU-2400 series that allows technicians to safely and automatically perform leakage measurements. The device triggers and measures handpiece-activated leakage measurements, without manually shorting the monopolar output terminals. The company says that a benefit of automated testing with the Monopolar Handpiece Simulator is that the ESU-2400's autosequences record measurements and produce a report once the sequence is complete. A technician doesn't need to manually record each measurement and doesn't have to worry about accidentally skipping a step.
BC Group reportedly designed the ConMed PM kit specifically for use with the ESU-2400 series. It is required if a user wants to properly perform PM autosequences on the ConMed system 2450 and 5000 using an ESU-2400 or ESU-2400H. The ESU-2400 series PM autosequences are important for biomedical technicians because they provide faster and automated testing.
For more information about the ConMed PM kit, visit BC Group's online store.