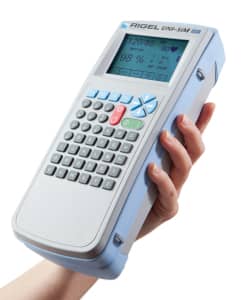 Rigel Medical has announced the release of its Uni-Sim Lite, a compact and versatile simulator capable of verifying the performance and accuracy of patient vital signs monitors.
The new multifunction patient simulator is a handheld, battery-powered unit intended to ensure that essential medical equipment continues to provide accurate data for the correct diagnosis, treatment, and monitoring of patients. The Uni-Sim Lite was designed as an entry-level patient simulator that can carry out the most common simulations and checks, performing NIBP, SpO2, ECG waveforms, temperature, respiration, and invasive blood pressure tests simultaneously.
Among the Uni-Sim Lite's features are user-definable systolic and diastolic pressures for NIBP simulations to allow specific NIBP settings for different types of monitors. In addition, the new test instrument is compatible with the Rigel PULS-R SpO2 universal simulation finger to ensure accurate representation for each type of SpO2 probe, reducing the need for separate accessories. Fully synchronized simulation signals are included to provide the closest and most accurate representation of a real patient, with the incorporation of a wide range of adult and pediatric custom physiological settings. The unit also offers fast start-up, single push-button activation, and long battery life, the company says.
For more information, visit the Rigel Medical's website.