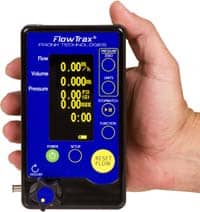 Pronk Technologies has launched FlowTrax, a palm-sized, multifunction infusion pump analyzer.
According to Pronk, significant technological advances reduce the testing time for servicing and maintaining infusion devices. The new FlowTrax tests infusion pumps for flow rate and volume performance in three minutes or less with a 1% accuracy using FlowTrax's patent-pending flow tracking technology.
FlowTrax also includes a full-featured pressure meter enabling faster occlusion testing and user control of backpressure, with a range of -12.5 to + 75 PSI and an accuracy rate of 0.5%. FlowTrax has an integrated digital stopwatch that automatically synchronizes with the start and end of flow/volume tests, while a trend screen stores test data at one-minute intervals. Also featuring a temperature meter, FlowTrax offers four-in-one testing, eliminating the need to carry a separate IV pump analyzer, pressure meter, temperature meter, and stopwatch.