An often-overlooked area of biomedical equipment engineering is the field of dentistry. The reason for this unfortunate event is twofold: Biomeds tend to prefer working on high-tech equipment used in traditional hospital settings, and school-based training programs today rarely expose them to dental equipment. When biomeds start their careers, they typically do not think of opportunities that exist in dental medicine, even though there is a significant need for skilled technicians who understand this type of equipment.
Not only are technicians needed to help advise on the selection and installation of equipment, they also are necessary for routine maintenance, support, and repair of equipment. This equipment can range from basic electromechanical devices to very sophisticated electronic systems and peripherals. The typical dental operatory contains chairs with hydraulic lifts, sterilizers, x-ray equipment (in some cases digital), and handpieces used for drilling and cleaning. Some practices use cutting-edge intra-oral camera systems, wireless video imaging, and chairside crown fabricators for restorative procedures. For those BMETs who believe they would find this field interesting and would enjoy working with dentists, it is possible to carve out a successful career in this specialty niche.
The Dental School Setting
Craig Neri, chief of dental clinical engineering at the University of Connecticut School of Dental Medicine in Farmington, Conn, is one such individual who has benefited by specializing in dental medicine. As a student at the United States Air Force's biomedical equipment training school over 30 years ago, he had no idea that he would end up spending his entire career working with dental equipment. Stationed at what was then the USAF Hospital in Wiesbaden, Germany, he studied virtually every piece of equipment found in both hospitals and dental practices.
"This was an incredible experience for me, since I became familiar with some of the most high-tech equipment available at that time," Neri says.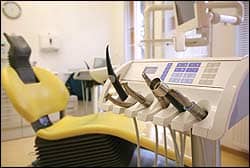 The typical dental operatory contains chairs with hydraulic lifts, sterilizers, x-ray equipment, and handpieces used for drilling and cleaning. Some practices may use intra-oral cameras and wireless video imaging.
When he returned to civilian life and began his job search, he was hired on the spot at the University of Connecticut School of Dental Medicine to fill a vacancy in what was then a three-person department. After numerous budget cuts to the department, Neri became the sole biomed responsible for servicing the 150 dental operatories and 35 dental x-ray machines in the dental school. In the medical center, he also services a dental operatory in the emergency room, and a portable dental unit in the operating room.
"It has always been a very rewarding job because I develop a close rapport with most of the students and the dentists," Neri says. "Students have questions about the equipment while they're studying here, and as they get closer to graduation, they seek my input on what equipment to purchase."
Over the years, as dental equipment has evolved, servicing needs have changed. The components have been condensed and use fewer moving parts. "Even though you're still dealing predominantly with pneumatics and water, you now have fewer devices performing the same functions," Neri explains. "I used to troubleshoot at the component level, but in many cases it's just not cost effective to do this anymore. It's just easier and cheaper to replace the component."
Neri is also seeing an increase in smaller support equipment, such as dental curing lights and devices used to diagnose, measure, and treat root canals. "Most of this equipment is very small and not repairable in the field," he says. "Because it's so specialized, the manufacturers prefer that we ship it to them for servicing."
With such a large turnover of students working in the operatories each day and during night school, one of the big challenges is providing them with the necessary information to minimize repairs. "It generally comes down to how people handle the equipment," Neri says. "I can leave work in the late afternoon and everything looks fine, and then return the next morning and I can't believe what's happened with the equipment." To help dental students learn technical information, Neri conducts classes and provides printed material regarding basic maintenance and troubleshooting. One of the problems, however, is that after spending 10 minutes showing them how to use the equipment properly, they might not have an opportunity to use it for five to six weeks. "By that time, they've been overloaded with so much information that they often have forgotten what I taught them."
Because the dental equipment has so many users, Neri maintains a regular preventive maintenance (PM) check to ensure that all the devices are working properly. He typically conducts the PM right before the students are required to take their dental boards. Some of the areas he inspects are whether the chairs move properly, if there is sufficient water supply for the operatories, and if the high-speed air and fiber optical features in the hand pieces function correctly.
Neri stresses that a dental school is a rewarding place to work for those in the biomedical equipment field. At one point in his career, he had considered switching to the medical side of the business. "Looking back, I'm glad I didn't," he says. "I am able to interact with up-and-coming dentists and am constantly exposed to new technology."
Private Consulting
Robert Steinman, president of Edwardsville, Ill-based Steinman Services Inc, is another biomedical technician who has maintained a successful career in the dental field. Steinman received his biomedical equipment training in the US Navy, and in 1977 started his own business that now serves
private-practice dentists, hospitals, and Southern Illinois University's School of Dental Medicine in Edwardsville. Many of his hospital clients (who represent less than 5% of his workload) use portable dentistry systems that can be wheeled into the operating room or emergency room.
According to Steinman, the predominant malfunctions in both the hospital setting and in private-practice dentistry are leaking and clogged water circuits. "Valves either work or they don't, and when they don't work, they either leak or suffer blockage," he says. Another common reason for a service call is the maladjustment of compressed air pressure, which is usually 80 psi with further pressure reductions, depending on the pneumatic instrument. Air compressor failure will completely shut down a clinical facility. "If a client calls and says their air compressor is down, I have to respond immediately; if a client says they have a water leak, it's often not a major leak, and collateral water damage is limited to the size of the self-contained water supply, which means it doesn't take a high priority."
For several years, Steinman offered a quarterly PM call to his dental clients. Although the program was well-received by local dentists, he realized making these calls annually instead of every four months seemed more logical, given the nature of the repairs. But after reviewing the expense of this service for the client compared to the fees he charged previously for as-needed service calls, Steinman discovered that he was charging them substantially more for these PM calls, even though it did not result in a drop in emergency calls. As a result, he stopped this service and since then has considered implementing a similar program that focuses on equipment evaluation instead of PM. "I would set up a situation in which I make calls every few years to evaluate the efficacy of the dental practice in terms of what they have and what they might need related to new technology," Steinman says.
Although dental equipment still involves mostly mechanics, pneumatics, and hydraulics, Steinman explains that new advances have been introduced, resulting in a wide range of equipment for dental practices. Specifically, Steinman is seeing increasing numbers of computer-aided milling machines, digital x-ray machines, air-abrasion systems, soft-tissue lasers (with some hard-tissue applications), and wireless devices. The problem for biomeds, however, is that in many instances, the manufacturer only wants factory-authorized representatives handling the servicing of these sophisticated devices.
Often, with the development of a brand new technology, manufacturers struggle to find highly skilled biomedical technicians like Steinman who can provide technical support. However, what tends to happen is that once the equipment becomes more widely distributed, the large chain service organizations end up retaining exclusive servicing contracts with the manufacturers. "I tend to lose money because of the learning curve," Steinman says. "I can spend a lot of time learning about a new product, but then once it's commoditized, I lose my contract." This is the nature of his job, but is not overly problematic because Steinman finds many rewards in learning about new technology. He also still maintains contracts with some manufacturers that date back 20 years or more.
One of the keys to Steinman's success has been his ability to diversify by identifying specific niches in the industry. For example, he manufactures an infection-control product, Prophy Wrap, that expedites prepping operatories without overusing surface disinfectants. Steinman developed a system allowing protective film to be easily dispensed in order to protect patients and dental personnel from the spread of infection. Steinman also serves as an appraiser of clinical facilities for sales transactions and tax reporting. "I learned years ago that survival comes from sales, but since I'm technically oriented, not sales oriented, I've had to augment my income from other sources."
The Hospital Setting
Service Tasks in Dentistry
Biomeds who specialize in the dental field typically work for dental-oriented service organizations, dental schools, or hospitals that offer dental clinics. Many become independent consultants who contract with local dentists and dental facilities. The primary responsibilities of biomeds who specialize in dental equipment include:
Providing regular servicing, routine maintenance, and preventive maintenance on equipment.
Answering emergency calls.
Offering advice on the condition of equipment, including any recommendations regarding the repair or installation of new equipment.
Installing new equipment.
Preparing detailed inventory reports on equipment.
Training the dental team on new products related to basic maintenance.
—CD
Although most tertiary hospitals use only portable dental operatories, some institutions, such as Veterans Administration medical centers, have more comprehensive dental clinics. The VA Boston Healthcare System has three facilities, with each offering a 10-chair dental clinic for patients. Margaret Byrne, chief clinical engineer, notes that all of the BMETs on staff are trained to service this equipment. However, because the equipment is much more mechanically based than the high-tech equipment on the medical side, and is relatively simple to repair, techs with less experience tend to be assigned to this area. Biomeds who have specialized training and experience in x-ray repair and servicing (in both dental and medical services) are assigned to address x-ray needs in the dental clinics.
In the past, the most frequently reported service call for Byrne was a water leak. However, now that the dental operatories rely on a self-contained water system, this problem is rare. New equipment has also meant fewer problems for her department. When new dental equipment was acquired recently, the department also purchased additional training hours so that the biomeds could service the devices properly.
According to Byrne, working in the dental area is a great place to start for newly trained BMETs, or for those who have a special love for the more mechanical nature of equipment. "It provides a great stepping-stone for the entry-level technicians," she says. "Much of what they learn in this area can be applied to other areas in the hospital—not only medical equipment but also clinical laboratory equipment."
Carol Daus is a contributing writer for  24×7. For more information, contact .