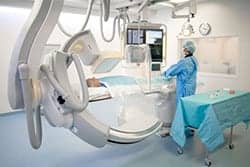 The AlluraClarity live image guidance system, manufactured by Philips Healthcare, by been cleared for marketing in the United States. The system uses the company's proprietary ClarityIQ technology to provide imaging for a comprehensive range of clinical procedures at low x-ray dose levels for patients of all sizes. The ClarityIQ technology will also be available as an upgrade for most of Philips' installed base of monoplane and biplane interventional x-ray systems.
"All patients treated via x-ray guided interventions benefit from the advantage of low radiation exposure, but it is especially important when you are treating patients who have to undergo lengthy and complex procedures," said Dr Marco van Strijen, interventional radiologist at the St Antonius Hospital Utrecht/Nieuwegein, the Netherlands. "We have been using Philips' AlluraClarity system for more than a year now and have really grown to appreciate the low dose settings. This technology is making a difference where it really matters."
AlluraClarity was first marketed outside the United States in mid-2012. Since then, more than 200 systems have been ordered. For more information, visit the Philips AlluraClarity website.