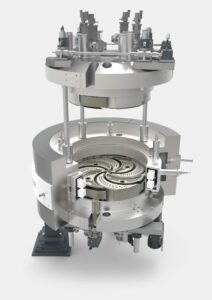 Varian Medical Systems has installed a Varian ProBeam cyclotron at the Georgia Proton Treatment Center, LLC in Atlanta. The cyclotron is a core piece of equipment of the ProBeam proton therapy system. Scheduled to begin treating patients in late 2018, the Georgia Proton Treatment Center will be operated by Emory Healthcare.
Once completed, the Georgia Proton Treatment Center will feature five treatment rooms. Emory Healthcare faculty and staff will provide physician services, medical direction, and other administrative services to the center.
Varian's ProBeam system is the first to offer fully integrated intensity-modulated proton therapy to enable more efficient adaptive proton therapy. Varian's pencil-beam scanning technology gives clinicians the ability to deliver the dose precisely within the contours of the tumor to minimize dose to healthy tissue. When combined with cone-beam computed tomography, the ProBeam system enables advanced adaptive therapy during the course of treatment, helping to make it a more precise form of proton therapy.
"Achieving this milestone with the Georgia Proton Treatment Center is an example of the growing adoption of proton therapy as an advanced cancer treatment option," says Moataz Karmalawy, PhD, general manager of Varian's Particle Therapy division. "We are very proud to be working with leading academic and medical centers, like Emory, to help broaden the availability of this technology."
"We are very pleased to have taken an important step in the completion of this treatment center with the installation of the cyclotron," says Ashley Preisinger, president of Georgia Proton Treatment Center, LLC. "We are looking forward to the opening of the first proton therapy facility in the State of Georgia, and establishing best practices for the use of proton therapy to treat cancer."