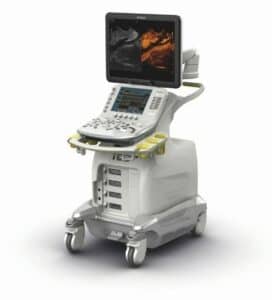 Hitachi Medical Systems Europe recently debuted its new endoscopic ultrasound platform for gastroenterology, Arietta Endoscopic, at this year's United European Gastroenterology Week, held October 24–28 in Barcelona, Spain. The system is able to provide high-resolution anatomical detail through new developments in the acquisition and detection of ultrasound signals, improved signal processing, and advanced image quality and display.
Using a multilayer crystal and a new type of smart connector technology, the system's range of probes offer high sensitivity with enhanced signal-to-noise ratio, along with durability and usability. Advanced and flexibly adjusted algorithms of the emitted and received ultrasound signals allow precision control of the ultrasound beam, guaranteeing high spatial resolution in imaging.
The Arietta is equipped with fast ultrasound-specific digital signal processors, supporting a wide variety of application-related features and advanced data processing. The platform and its high-grade IPS-Pro2 LCD monitor technology are designed to ensure that Real-time Tissue Elastography (RTE) and Contrast Enhanced Ultrasound are displayed with good picture quality, clarity and precision (High Sensitive CE-EUS) within the field of flexible endoscopic ultrasound. The system features High Tissue Reduction Mode – TrC (Amplitude Modulation), which enables accurate contrast imaging, good penetration at depth, reduction in movement artefact, and uiform near field and far field imaging. Hitachi's Pentax EUS ultrasound scopes are also compatible with the Arietta ultrasound platform.
For more information about the Arietta system, visit the Hitachi Medical Systems Europe website.