Among the cardiology systems Siemens Healthcare showcased at the annual meeting of the American College of Cardiology (ACC) March 14–16 was the Artis one angiography system. Designed to address a broad range of routine interventions, the system offers positioning flexibility similar to that of ceiling-mounted systems, according to Siemens. The floor-mounted system accommodates full head-to-toe coverage of patients up to 6 feet, 10 inches tall without the need for patient repositioning.
The Artis one's Clearstent Live application freezes motion in the stent region, allowing the physician to mask out movement of the beating heart and place the stent in precisely the correct position. In addition, the system offers the new HeartSweep tool for cardiac imaging, which uses dual-axis rotational angiography to image the entire heart in one smooth C-arm movement.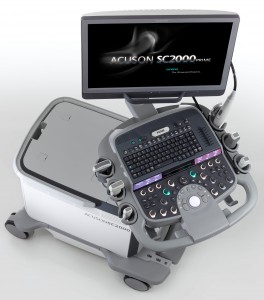 At the ACC meeting, Siemens also showcased its premium cardiovascular imaging system, which earned FDA approval in October 2014. The Acuson SC2000 ultrasound system is said to enable users to perform real-time, full-volume color Doppler, 3D transesophageal ultrasound (TEE).
According to Siemens, the Acuson SC2000 provides real-time information in the OR, even on patients with arrhythmia, to support a faster, more precise surgical workflow, optimize patient outcomes, and minimize risk. It provides rapid, automated aortic and mitral valve measurements through the company's eSie Valves quantification software, intended to allow surgeons to better visualize cardiac anatomy and assess blood flow during procedures, helping them make faster, more informed decisions.
For more information about the Artis One system and the Acuson SC2000 ultrasound system, visit the Siemens website.