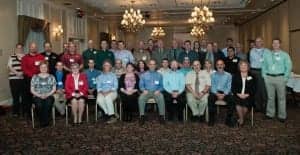 The Technical Services Partnership team at the 2012 annual meeting.
For nearly 40 years, Technical Services Partnership (TSP) has been partnering with health care providers to increase the quality of care through the use of advanced medical technology. Our health care life cycle technology planning and management services have enabled our customers to stay abreast of the latest advances in health care technology, including medical device/IT, while ensuring patient safety, clinical efficacy, cost containment, and operational excellence.
Our Vision is to be the premier provider of technical products for health care.
Our Mission is to provide clients with comprehensive technology management and services and outcome-based education.
Our Values are: Integrity, Responsibility, Innovation, Teamwork, and Quality.
We are recognized locally, nationally, and internationally for our leadership in the field of health care technology management. Awards include a four-time recognition from BI&T with Best Practice articles; the AAMI Best Practice Award 2008; and the AAMI Clinical Engineering Week Award 2011 for best-celebrated National Biomedical/Clinical Engineering Appreciation Week 2011.
As a nonprofit division within the University of Vermont, our customers benefit from our close association with the university's College of Medicine, advanced research capabilities, and the ability to cost-effectively leverage the resources of a highly regarded institute of learning.
Our People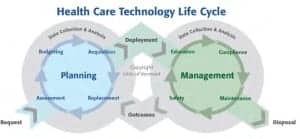 To deliver the best in health care technology management services, we invest in the most qualified clinical engineers and biomedical equipment technicians. Our employees come from diverse backgrounds, but they possess a common drive and commitment to deliver the very best service for customers and patients. Our experienced and responsive staff are in partnership with our customers in day-to-day endeavors, applying their vast array of talents and expertise.
The TSP Difference
The staff of TSP consists of certified clinical engineers, biomedical equipment technicians, managers, and administrative support staff. All staff play key roles in the effective management of the complete health care technology life cycle.
Our certified clinical engineers focus primarily on the planning phases of the life cycle in areas such as technology assessment, equipment replacement planning, budgeting, device acquisition, patient safety, education, regulatory compliance, and risk analysis.
Our biomedical equipment technicians work in partnership with hospital staff and our clinical engineers to ensure our clients' medical equipment is available and operating at peak performance. They are actively engaged on a day-to-day basis to maintain, troubleshoot, and repair advanced medical devices. Many of our staff are certified by the International Certification Commission.
Careers

Technical Services Partnership takes pride in hiring the best and the brightest clinical engineers and biomedical equipment technicians. We provide world-class opportunity and education to our staff. As a department within the University of Vermont, TSP offers competitive compensation and a generous benefit package, including full tuition remission to its valued employees. To explore opportunities to join the TSP team, please visit www.uvmjobs.com
---
The University of Vermont
Technical Services Partnership
Burlington, VT
(802) 656-3255
www.tsp-uvm.org