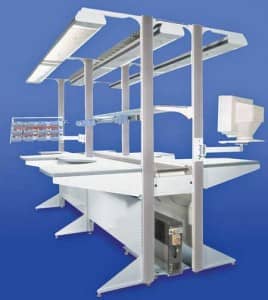 Lista International, a maker of modular storage systems and workstations, has announced updates to its Arlink 8000 modular workstation. The technical workstation has been reconfigured for a range of uses with multiple new features.
These features reportedly include LED lighting, USB charging ports, and new paint and trim options, as well as the company's Definite Positioning System, companion storage, and electrostatic control. The workstation also has a new column trim profile designed to increase internal capacity for wire and utility management and hide wires and hoses; LED overhead lights with a good color rendering index; a new light bracket design that allows more headroom over the bench top; LED undershelf lights with multiple mounting options; and power beams in 15-amp and 20-amp with optional USB charging ports and GFCI outlets.
The Arlink 8000 workstation is ergonomically designed to offer flexibility and accommodate changing or future needs. The company reports that the workstation is suitable for a variety of applications, such as assembly, repair, research, and technical work, and can be assembled and reconfigured quickly to help save time and money.
As with other Lista workstations, the Arlink 8000 has a unique "starter and adder" system, with the option of back-to-back configurations, which enables various layout possibilities to adapt to multiple spaces or process requirements. The work surfaces are available in standard laminate or static dissipative, and come with a caster option to create mobile workstations or parts carts.
For more information about the Arlink 8000 Modular Workstation System, visit the Lista International website.