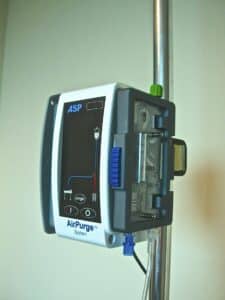 Anesthesia Safety Products has announced that Shriners Hospital for Children in Los Angeles has installed the company's AirPurge system, a device designed for the detection, automatic removal, and disposal of air bubbles in IV lines. According to the company, more than 1.3 million surgeries in the United States result in venous air embolism each year.
Intended for use in operating rooms or the post-anesthesia care unit, the AirPurge system monitors IV lines at slow and fast infusion rates to detect air bubbles as small as 25 microliters. When air bubbles are detected, pinch valves are activated to divert the bubbles to a collection bag. Once a sensor confirms that the bubbles have been removed, the system resumes delivery of the IV fluid. The process takes place automatically to minimize interruptions for hospital staff and reduce delays. The system can be used by itself or integrated with a fluid/blood warmer and certain infusion pumps to capture air bubbles generated during the heating/infusion process.
"The AirPurge System has given us great confidence in our ability to safely deliver medication and fluids to our children. It has largely eliminated the threat of air bubble IV line contamination for our patients," said Frederic Bushnell, MD, MBA, an anesthesiologist at Shriners Hospital. "We deem it a major advance in patients' safety and we find it easy to set up and use."
For more information, visit the Anesthesia Safety Products website.