By Ilir Kullolli

Physiological parameters, ventilator data, x-ray, MRI screen shots, IV pumps, and patient and staff information—all in one big screen together, available anytime they are needed! Something from the motion picture Minority Report is what comes to mind when I think of medical device connectivity. And if you have been to one of the Integrating the Healthcare Enterprise showcases at the Healthcare Information and Management Systems Society (HIMSS), you may have realized that it is pretty close to that. It is very easy to get frightened by the magnitude of it all; however, deep down it may not be as frightening as it appears. After all, what is scarier than a "state-of-the-art" electronic anesthesia machine failing in the middle of a surgery and having to replace it while the patient is on the table?
We, as clinical engineers and biomedical equipment technicians, have been here before. We were here when mechanical ventilators and anesthesia machines were replaced by electronic ones; we were here when simple IV pumps were replaced by smart pumps, and here we are again—simple devices need to be networked and provide essential patient information to clinical staff anytime they need it.
Current State
One thing we have to realize is that not all devices can be networked at this stage. Sitting at a HIMSS lecture last year I heard that in any hospital less than 20% of the medical devices have a useful output—and in some cases it is less than 5% of the devices. However, that number will soon grow and it will present a challenge for everyone to connect these devices on a network. Given the complexity of this task, we should start tackling it sooner rather than later so that we are ready when 50% to 100% of the devices will be ready to be networked.
Before getting into device connectivity it is very important for us to get a general knowledge of networks. Knowing networking (switches, routers, architecture, and servers) will give us an advantage when it comes to medical device connectivity. We know patient workflow better than our IT counterparts and vendors, we know clinical staff better than they do, and we know when/where/how devices are used better than they do too, allowing us to dictate how a medical device network should work. We can also say what medical device connectivity model can or cannot work in our hospital setting. We can specify the architecture of the network; we can say whether it should be wired or wireless; we can specify the amount of network drops and access points needed; and we can specify the amount of switches, routers, servers, etc that are needed.
Tips for Success
1) Get involved from the beginning and know your institution's goals for medical device connectivity. Where are they now, and where do they plan to be in the next 5 to 10 years? Build strong relationships with IT and clinical staff. You will need these relationships because they both will be your allies in the medical device connectivity task. Also, build strong relationships with clinical engineering staff in other hospitals. You will learn a lot from their experience, and maybe it will help you avoid certain issues they may have run into.
2) Get involved with the purchase of your organization's electronic medical record. If you do not ask to get involved you will end up with something that may not be the best solution, and you will waste valuable time trying to figure out how to make your devices work with the software, rather than have the software work for your devices.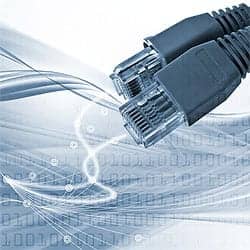 Learning networking gives biomeds an advantage when it comes to device connectivity.
3) Learn networking principles. It is very important in this day and age for everyone—let alone clinical engineering staff—to know networks. Everything, from your home to your hospital, is networked. Therefore, knowing networking is a basic skill that will soon be required from all of us. We do not need to have a special title (clinical systems engineer, clinical systems technician come to mind) to know the networks. It is part of what many of us do now and all of us will be doing in the future. Many courses are available online, in community colleges, or from your national or local clinical engineering society.1
4) Plan big. When planning for medical device connectivity, keep your institution's goals in mind. If they want most devices to be networked in the next 5 to 10 years, then you should plan for that from the start. It is a much more efficient use of money and time to lay network and power cables in bundles than to go back and reopen walls. Also, arrange for the backup plan. If a network cable fails, you want to make sure that you have another one ready to use, or in case a switch fails, you want to have a spare one in place. In 5 to 10 years, most clinical staff may have forgotten how to enter patient data manually, and they may depend solely on the information coming from the network you are building now. So make sure that you have at least a spare network drop/access point, a spare switch/router/server ready to go.
5) Start small. Yes, plan big and start small. Initially, the clinical staff will want all devices networked. However, with some customer service skills and clinical engineering knowledge we can show them what is possible to connect and what we recommend connecting. Start with devices that you are already networking for other purposes, such as physiological monitors and IV pumps. Then you can move on to something bigger. Once you have this solidly worked out, then you can slowly expand your medical device connectivity inventory.
6) Have a strong support plan. Once everything is connected, we, as clinical/biomedical engineers, will have to support it. If we have built the right relationships with IT and the clinical staff from the beginning, then it will be easier to figure out a support plan for the networked devices. If we have learned the networking principles, it will be easier to support the networked devices. If we have planned for redundancy, we will be confident that we will have a quick solution in case something fails. If we have accomplished all of the above, our department will look good in front of our customers and will only grow stronger in the organization.
7) Have a plan for introducing new medical devices. See if you can include medical device connectivity in the requirements for each new device that enters your organization. It may not be possible with all devices, but to have a plan in place is a great thing to do.
As long as we plan accordingly and give ourselves enough time to accomplish each task, we should be able to get our devices networked and have the confidence that any data being output from those devices will be readily available when needed by clinical staff. As mentioned earlier, we have been here before and done it all before. This is just another objective we have to meet in order to continue providing safe and effective patient care.
---
Ilir Kullolli, MS, is a clinical engineer at Brigham and Women's Hospital, Boston.
Reference
NESCE (New England Society of Clinical Engineering) Network Training Program. www.nesce.org/htmlpages/NetworkPlusTraining.htm. Accessed June 15, 2010.