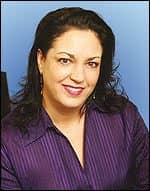 Julie Kirst, Editor
I have just returned from Tampa and the Association for the Advancement of Medical Instrumentation (AAMI) conference. It was great to connect in person with so many of you, and thanks to all who stopped by our booth.
There is a lot to do at AAMI between seeing all the exhibits, attending classes, and trying to catch up with old friends. For those who had an extra minute when they stopped by our booth, I asked what their goals were for the show, and what they had heard was drawing a lot of attention. Managers and techs told me they were there to network in the traditional sense—see colleagues and exchange ideas with them—as well as to see the latest devices and attend the classes.
When it came to what was drawing attention, a lot of it was in the IT area, such as connectivity, the new kind of "networking," and wireless. One of 24×7's board members, Ken Olbrish, MSBE, with Main Line Health System in suburban Philadelphia, told me the IT classes were very well attended and there were a number of questions about understanding the basics of wireless and how to connect devices not originally designed for integration. I stopped by the HIMSS booth where connectivity sessions were in full swing, and, again, many biomeds had stopped by to gain a greater understanding of the connectivity and interoperability process.
I'm happy to report that 24×7 is on top of your needs; in fact, we cover the IT challenge each month with our Networking column. In particular, this month Ilir Kullolli, MS, breaks connectivity down and provides steps for successful connectivity, one of the points of interest of AAMI attendees. Our Service Solutions section also addresses the other topic frequently raised at the conference: wireless.
Associations from this article:
At the show, I also spoke to department managers and asked what their team most needed or wanted. Not surprisingly, "training" was heard most often. On this note, Michael Reed of GE Healthcare told me many departments have paid for training but he is hearing that there's no money to send techs. Take a look at our blog posted July 12, and read his best practice idea. Be sure to comment on the blog and add your own ideas on how to get this needed training when purchasing equipment.
I know many of you who normally attend the AAMI show could not this year due to budget constraints. Don't forget that your local and regional associations go to great lengths to offer conferences and monthly training sessions, so be sure to support them and take the time to attend. You not only benefit your career with new knowledge, but you meet new colleagues who can always offer ideas on how to cope with work challenges. Events coming up: The Colorado association, CABMET, will hold its symposium July 30 through 31; the Clinical Engineering Association of Illinois will debut its first symposium August 25 through 27; in North Carolina, NCBA will now hold its annual symposium this September 8 through 10, instead of in December; and the Virginia Biomedical Association's annual meeting is slated for September 14 through 16. Did we miss any other meeting? Access our online calendar from our home page to add your event and to find out about more events, classes, and training sessions.
Times may be tough, but affordable opportunities still exist that allow you to connect with one another and with the training you need to stay vital.
Julie Kirst