For many hospital clinical engineering teams, physiological monitoring systems often make up a large portion of the inventory. And for many years, these devices were stand-alone systems that fell completely within the realm of biomedical technicians.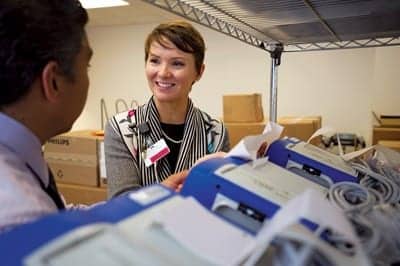 Jennifer Jackson discusses the check-in process for new defibrillators with a staff member."A physiological monitoring device was on its own network, and when something went wrong, clinical engineering performed the troubleshooting, from the sensors on the body to the network switches to the servers—everything was very much isolated as a single system," says Jennifer Jackson, director of clinical engineering and device integration at Cedars-Sinai Medical Center in Los Angeles. But then came the Internet and the push toward electronic documentation.
Computers were introduced to the consumer in the 1970s, followed by the Internet in the 1990s. Two decades later, and much of the world has gone from wired to wireless. In health care, as elsewhere, connectivity has become key to efficiency, accuracy, and performance.
Today, many devices within a hospital can be integrated with the electronic documentation system—and those that aren't, likely will be soon. Naturally, due to their purpose and nature, physiological monitoring systems have been some of the first devices to be intertwined with these other enterprise-wide documentation systems.
"Because these same physiological monitoring systems now provide data to the EHR, we can no longer say they are stand-alone systems. Any changes one might make in regard to how the system is maintained, including software versions, configurations, and feature function, may have an impact on the integrity of the data and the way it is exported to the EHR," Jackson says.
This has, therefore, created the expectation that the devices are to be treated as part of the larger enterprise's networked system. But the network has traditionally been the responsibility of information technology or information services departments. "And so the management of this technology is changing," Jackson says.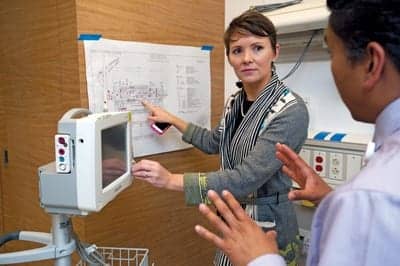 Jackson reviews placement of technology in the facility.Looking ahead, Jackson foresees a future where the convergence of technologies will continue. Though she realizes everyone sees different futures in their own crystal balls, she is helping Cedars-Sinai to pioneer the what she calls the "synergistic collaboration" of clinical engineering and IT as well. Rather than maintain them under different heads and in their own silos, the clinical engineering group was transferred into the IT department. Now, IT incorporates the nurse call, image guided surgery, and device integration teams as well. Since joining the health organization just under 2 years ago, Jackson has overseen the transition and the subsequent development of a new integrated device systems support team, an OR clinical engineering team, and a device integration team within the new department.
"The goal was to bring these two groups together to operate as a single unit and work hand in hand to address the fact that technology has become a sophisticated component of the overall medical device," says Darren Dworkin, senior vice president and chief information officer at Cedars-Sinai Medical Center.
Although such a culture change is never easy, the benefits have been immediately felt within the workflow and the department feels better prepared for the future. In general, Cedars-Sinai is an organization that looks ahead, and that forward-thinking philosophy has guided clinical engineering on both external (such as the department merger) and internal levels (such as the Device Integration Lab, a testing and innovation sandbox).
Blurring the Lines
Naturally, the biggest change for the clinical engineering department as a whole has been the transition to IT. But according to Tom Rajaratnam, clinical systems specialist on the Integrated Device Systems (IDS) team, the relationship building between the two groups began some 5 years ago in conjunction with the migration of medical device systems into enterprise networks, particularly the physiological monitoring systems. With the formation of the IDS Team, the effort was solidified.
The new group was developed to handle systems that are hybrids of medical devices and networks, such as nurse call or middleware. "We needed a trained team for these applications. The systems require someone with both IT and clinical engineering skills—someone who is comfortable troubleshooting a problem not only at the point of care but also remotely from their desk, because sometimes that's the only way to get to a server located on a server farm 20 miles away," Jackson says.
The hybrid skill sets enable a technician to understand the medical device, the network, and the communication between them, such as HL7 and other connectivity languages and protocols, says Keith Alfon, manager of the IDS team.
Unfortunately, these hybrid skills are rare. "Recruiting can be difficult. One of the downsides in creating a new type of job is being the first to market and creating a need for those specific skills," Dworkin says.
Cedars-Sinai, however, has always supported education, and Jackson notes that the IT department offers a robust training program. Several of the biomedical technicians in the clinical engineering department transferred to the IDS team when it was first formed. "We allocate funding every year to staff training, and there is more cross-training going on than ever before," Jackson says.
Blending the Teams
Biomeds, in general, are learning and being exposed to more network issues on a routine basis. For instance, in the case of physiological monitors, the team may be the first called to troubleshoot and repair an issue—in any health care organization.
"At the end of the day, the nurses don't care who fixes a problem, they just know the first face they see. And when it's clinical engineering, it pushes the technicians to become more educated so solutions can be implemented quickly," says Roberto Torres, Jr, manager, OR, clinical engineering at Cedars-Sinai.
Processes for service hand-off between clinical engineering, IDS, and other IT experts are still being developed and fine-tuned, and as technology changes, the protocols and procedures will be expected to adapt, but the main focus has been efficient collaboration.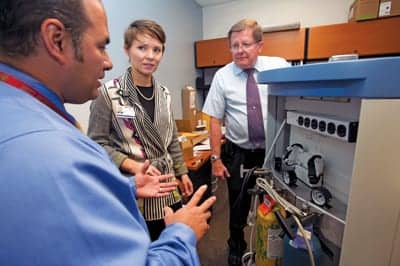 Roberto Torres, Jr, Jennifer Jackson, and Frank Bloom review possible anesthesia machine mounting solutions in preparation for the units to be integrated with Cedars-Sinai's electronic health records system."It is essential to have a proper flow process (for support) so one division knows where to hand off to another group or division," Rajaratnam says. Because individuals with both backgrounds have an easier time envisioning the whole picture and where they can best assist, the IDS team is developing these guidelines.
"Working in the clinical engineering and IT environments, one has a better understanding of the data flow and can step in to solve problems even if it is the jurisdiction of another team in a collaborative effort," Rajaratnam says.
By merging the two teams, collaboration has already gotten easier, and response speed has increased overall. If clinical engineering determines a problem is best handled by the IDS team, the issue is easily referred. "Everyone is part of the same team and receives the same direction and support from our executive leadership: There are none of the political issues that can sometimes occur when you go between different directors or VPs, everyone is under the same performance expectations, and we all follow the same rules regarding chain management and incident reporting," Jackson says.
This does not mean there have not been challenges. "There are still bumps, but it is a learning process, and we can now move forward in the same direction with fewer obstacles than before," Jackson says.
Many of the early bumps resulted from the culture change. "We spent a long time laying the groundwork because it does take a lot of thought and careful planning to merge the cultures of IT team and clinical engineering in a way that is productive. And it's not that either way is right or wrong; it's just that they are different," Dworkin says.
Administration had to make adjustments, and the staff was nervous, but everyone was also open to change and the potential benefits. Jackson acknowledges that individuals can feel threatened as they find their "power" through sole expertise diminished by shared knowledge, but that, ultimately, the benefits and resulting camaraderie outweigh these concerns.
"I haven't come across a staff member yet that wants to continue doing things the old-fashioned way. Everyone has a hunger for new technology and new opportunities," Jackson says. "The key is to make sure everyone knows that they play an important role, and perhaps that role is even more significant than before."
Assigning the Work
Post-transition, the current clinical engineering team comprises 38 employees, including Jackson. The clinical engineering team includes 20 staff: 11 technicians, two lead BMETs, two per diem technicians, three clinical engineers, and a financial coordinator.
Together, they manage approximately 28,000 devices; roughly 80% of the facility's medical inventory is handled in-house, with another small percentage managed through contract. MRI, CT, PET, and linear accelerators are managed separately. A special team is devoted to the ORs.
"Because we have 52 ORs spread out across the campus and they are such high-demand areas, administration determined that the departments needed their own manager," says Torres, who fulfills this role. Similar to the rest of the hospital, operating rooms are becoming more high-tech and require more time and expertise to service and maintain.
"Smart ORs utilize a lot of devices and integration: We need a specialist in anesthesia, another for the video system, and perhaps another for PACS. We then need to integrate all of those devices into the room network, and so we also have to talk to IT," Torres says.
Calls that come to the biomed teams from throughout the hospital are entered into technician workflow and assigned to individuals on a first-come, first-serve basis, unless a specialist is required. "Service requests come to us over the phone throughout the day and evening from our users, and we respond accordingly. However, since they are often urgent, they usually require an immediate response," says Alazar Negash, lead BMET for the Clinical Engineering team.
When specific training or certification is required, repair requests are routed to the proper technician, such as one trained in anesthesia or ventilation devices. Radiology, OR, and the heart transplant unit also require special skills.
Sharing the (Work)Load
But again, convergence encourages collaboration, and the IDS team may be called in at any time as well. To help figure out how to service and maintain new equipment and technology most efficiently—as well as when a handoff is best advised—the department as a whole has enabled a proactive approach through its Device Integration Lab.
"The concept is to provide a staging ground where we can simulate a patient environment to test device integration," Rajaratnam says. Jackson notes the lab is affectionately called the "sandbox" in part because it is a "play" area and in part because it is not necessarily the prettiest space. The lab is located in an area that was formerly part of a data farm. "But it is a place where the engineers can go and work with the equipment to understand how everything functions," Jackson says.
The team can install prototypes or test existing systems and learn how to improve service and support. They can disconnect or cross wires or program a system to observe the effects on both the device and the data flow and analysis that occur downstream.
A current project, for example, involves nurse call. The team has implemented two nurse call systems within the lab in tandem, as it is currently trying to replace one system with the other throught the hospital. "This should help us not only to troubleshoot problems, but also seek out ways of improving patient care in terms of gathering vital patient data," Rajaratnam says. Nurse call, he adds, is quickly becoming a significant part of the nursing communication system, and it is crucial to understand its interdependencies with other systems.
The lab may also be used to demo new products. Clinical engineering works closely with clinicians and materials management to make recommendations for acquisitions, another change that has occurred in recent years. "We've been able to increase our level of participation at the beginning of a project rather than coming in at the end," Jackson says.
Working as One
The clinical engineering team has also collaborated with a myriad of departments to complete the new medical education simulation center slated to open on the Cedars-Sinai campus in October. The new facility will be dedicated to medical staff training and features two operating theaters, two ICU rooms, one labor and delivery room, and a series of classrooms—all equipped with video and recording capabilities.
The rooms have been set up to mimic care areas within the medical center, so existing equipment has
Jennifer Jackson overlooks anesthesia machines and electrical surgical units in a staging room.been duplicated. Recording capabilities (both sound and video) have been incorporated to allow debriefings of any event, from a conversation to a surgical procedure.
As new technologies are tested in the sandbox and acquired by the facility, they will be set up in the center for training; clinician demos of acquisition options may also be conducted. "We'll then be able to deliver a well-tested system to clinicians [after the acquisition decision is made]," Jackson says.
Jackson would also like to be able to test systems of the future through the center. Technological advances in applications and networks currently allow mobile and remote access to data, but eventually, communications are expected to expand to real-time alerts and remote bedside monitoring.
"As more and more smartphone applications work like medical devices, we will need to be ready to support them, and now is an excellent time to become familiar with these systems," Jackson says. At present, nurse call communication systems can fall within the purview of biomed or another group, depending on the facility and the application. "Mobile phone applications that function like medical devices are still relatively new and need to be better incorporated with a hospital's medical equipment management plan."
At Cedars-Sinai, the clinical engineering team manages the facility's Voalté system, a point-of-care communication system that allows nurses and clinicians to send and receive presence-based text messages, make voice calls across the hospital VoIP system, and receive critical care alarms on an iPhone. Management of other mobile applications would be a natural next step—if the expertise exists within the department. This is another example of synergy, says Jackson. "The clinical engineering department manages the Voalté application while the voice and data network teams manage the iPhones and the network that supports VOIP. They work side-by-side, meeting weekly to discuss new application versions, new iOS versions, device management, and other relevant topics since they are all so interdependent."
This means another convergence of systems, and once again, adoption may be pushed by physiological monitoring systems and the physician-led desire to have faster and easier access to that data on their personal devices. By preparing for that time now, the clinical engineering team at Cedars-Sinai Medical Center hopes to be prepared for the future. The convergence with IT may be just the first step in the development of a streamlined team that manages health care technology and medical equipment, which are quickly becoming the same thing.
"Medical devices have grown tenfold in technical complexity, and IT technology now includes components that touch the patient, so we need a team prepared to work on both sides of the aisle and view the unit as a single cohesive product," Dworkin says.
The merger of the two groups seemed a natural fit, but it has raised eyebrows within the industry. Dworkin notes vendors are often surprised at first when both Jackson and the chief application officer sit down at the table as peers, but he notes it is key as the two collaborate closely, helping to determine where responsibility for a system should fall and how management should proceed. "We are not the first organization to do this, but we have gone a little more in-depth with the integration to carve our path forward," Dworkin says.
It's possible many more health care organizations will follow this trend. As Dworkin acknowledges, Cedars-Sinai is not the first to merge clinical engineering and IT. For many, a combined team may best be able to handle the growing "Network Society" born of the Information Age, or at least the growing networked equipment inventory found in most health care facilities today—and tomorrow. 24×7
Renee Diiulio is a contributing writer for 24×7. For more information, contact [email protected].