Several system-wide expansions and two mergers have enabled clinical engineering at Arnot Ogden Health System to expand its department and scope of services
By Phyllis Hanlon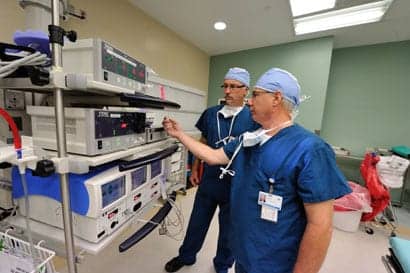 Vince Fierro and Vincent Sodano in an Arnot Health OR
When Alan R. Barton, CBET, arrived at Arnot Ogden Medical Center in 1990 as its new director of clinical engineering, he was presented with a 200-page biomedical engineering quality assurance study performed by ECRI Institute. The nonprofit patient safety organization had been requested by the hospital to assess the overall function and staffing of the biomedical department as well as the scope of in-house services it was delivering. Barton's first thought? "Well, I already have my first 50 goals lined up!"
At that time, the clinical engineering department consisted of four technicians, minus a director who had recently left. While many building blocks for equipment inspection and preventive maintenance were in place, the department provided limited services to many critical areas like the cardiac catheterization lab and perfusion, and none at all to radiology. The ECRI review set the stage for the department to build toward a comprehensive technology management program. In the last 23 years, the department and its scope of technology services have grown, as has the medical center. This single medical facility has become a regional, integrated health care delivery system that includes Arnot Ogden Medical Center, Ira Davenport Memorial Hospital, St. Joseph's Hospital, and more than 70 physician's offices and clinics.
Expansions Lead to Opportunities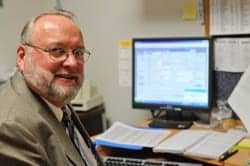 Alan BartonSoon after Barton's arrival, the medical center went through a fairly large expansion project. The "E-Wing" project involved a new building that would include a 20-bed ICU, a day surgery unit, a patient admitting area, a phlebotomy lab, a main entrance, and a lobby. Clinical engineering was actively involved in the process, he recalls, and helped form user groups "that looked at the clinical, medical, and nonmedical equipment, as well as the functional needs, of each area."
One user group comprising ICU, respiratory therapy, and clinical engineering staff helped the architects and planners in the design of a state-of-the art ICU that included such features as equipment power columns in each room to maximize space and efficiency. From the design to final installations, clinical engineering played an integral role in the user groups.
Also in the early 1990s, the medical center launched a surgical laser program, contracting with Laser Centers of America to start up the program. Laser Centers supplied administrative and clinical staff as well as a laser service technician. When the contract expired in 1994, all laser program services were brought in-house and the laser service technician was integrated into the clinical engineering staff. Vince Fierro, BMET III, joined Arnot as medical laser safety officer and continues to service the lasers and provide clinical training on laser safety.
Over the next 3 years, financial challenges required the medical center to look for areas to reduce expenses. "One cost-saving measure the hospital considered was having clinical engineering provide some level of support in radiology and imaging," Barton explains.
To start the process, the medical center worked with management consulting company Jannx Medical Systems, St Louis, and the Radiological Service Training Institute (RSTI), Solon, Ohio. With help from Jannx, Barton recalls, a capital asset management (CAM) program for diagnostic imaging equipment was put in place to bring service and support for the diagnostic imaging and radiation oncology equipment into the medical center's equipment management program. Through the CAM program, the clinical engineering BMETs received radiology equipment service training from RSTI.
As a result of this program, vendors lost many service contracts. Even so, Barton recalls, "they remained supportive and available when we needed them. In fact, cooperation with the service vendors increased as clinical engineering got more involved. Today, we use a combination of in-house, time-and-material, and vendor service contracts to control expense and maintain service quality."
Continuing Growth
Beginning in early 2003, Arnot underwent another major expansion, through a combination of new construction and renovation that added a new wing to the medical center. As before, clinical engineering actively participated in the planning, design, installations, and project oversight.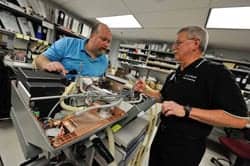 BMETs Robert Donovan and Brian Laverty examine a Respironics Esprit VentilatorNine new operating rooms added as part of the project contain advanced technology, including Berchtold surgical lighting with integral video cameras and equipment booms that suspend from the ceiling. Storz high-resolution cameras, insufflators, and video integration are installed on the booms for use during laparoscopic and orthopedic procedures. "From a control center, a nurse can enter documentation, operate the medical equipment, and observe and control the video signals. The video integration system sends various modality images to any of three to five monitor displays suspended around the room," Barton says. "This technology may enable a technician operating perfusion equipment to remotely observe the color and perfusion of the heart via the surgical light camera, while the surgeon may be observing an image from a C-arm or the cath lab on a monitor suspended at the surgical table." The next challenge, Barton adds, "will be to integrate several high-definition imaging systems into these rooms."
In 2010, Arnot enhanced operations in its clinical laboratory through installation of a Beckman robotic automation system, an assembly line that runs test tubes through a series of analyzers and into storage. Jason Day, BMET III, services the robotics system, which runs 24/7. He explains that having this equipment in the facility is tantamount to "adding a technician to the lab."
The robotics system automatically handles the entire process, from transporting the tubes on an assembly line and spinning the blood in the centrifuge to running the tests through the analyzer and storing the tubes in the refrigerated stockyard. "If a doctor needs more information on a patient, he can get into the computer, locate the patient data, and make a request for more tests on the blood," Day says. "The goal is to free the lab tech to do other jobs while monitoring the process and quality. The big robot does the work."
Day's 3-week training in Beckman's California facility has allowed him to maintain and repair the machine, eliminating downtime and reducing costly manufacturer technician on-site visits. "I'm here to do preliminary troubleshooting. But maintenance is still a big part of the job," he says. "A Beckman technician came in recently, and together we tore down sections and replaced bearings, belts, and other parts. It's labor intensive and has to be done three or four times a year."
An expansion this past summer extended the robotic line, doubled the size of the stockyard, and added more, and larger, analyzers. "The lab would like to have another BMET trained," Barton says, noting that the medical center saves $25,000 every year by servicing this machine in-house.
In 2011, the department performed a major upgrade to the data network infrastructure for a GE Carescape patient monitoring system. "Much of the network cabling, switches, and hubs were between 10 and 20 years old. All network cabling was brought up to at least CAT5E standards, and network switches were replaced with Cisco 2960 with optic fiber modules," Barton says. In addition, all of Arnot's 13 GE patient monitoring central stations were upgraded to the latest GE Carescape CIC V5+ series.
Internal and External Interaction
In addition to the collaborative efforts with clinical staff, clinical engineering enjoys healthy relationships with all the hospital departments. "Our department works closely with facility engineering to minimize the grey areas in our service responsibilities. My staff might need facility engineering to install a new conduit, mount equipment, or take care of an electrical problem. Both departments strive to provide good customer service and communication," Barton says. "We don't have a lot of turf wars. Each department's front-line staff respect and rely on the other's talents and expertise."
Management information systems (MIS) has also become a partner of sorts. With the increased use of computers and networking throughout the system, an informal collaboration between clinical engineering and MIS has developed organically. Clinical engineering services the computers directly connected to medical equipment, but often needs the assistance of an IT expert. Similarly, if a server problem leads back to the front-line medical equipment, MIS may ask for help from clinical engineering. Increasingly, Barton says, medical equipment software resides on MIS servers, requiring a collaborative effort to perform front-line troubleshooting.
The Merger
Clinical engineering has used MediMizer software for their computerized maintenance management system (CMMS) for more 20 years. "Having a consistent CMMS has greatly facilitated managing the merging and transfer of medical equipment inventories across three facilities and all of the medical offices," Barton explains. "A standardized equipment classification nomenclature, departments, manufacturers or vendors, models, model-specific PM protocols, and risk classification has been a valuable asset." He points out that the recent mergers are creating a substantial increase in inventory, from 4,500 devices in 2008 to more than 8,750 devices after the mergers.
Clinical engineering oversees all equipment-related service contracts, according to Barton. "We have a centralized file of all the service contacts. It has been a huge challenge to collect all of the service contracts and identify which vendors should be involved and at what level of service. We rely heavily on the purchasing department to keep us in the loop and provide copies of all service contracts and POs. We try to be a resource for the departments as they make service decisions and assist with contract negotiations on request."
Staff Matters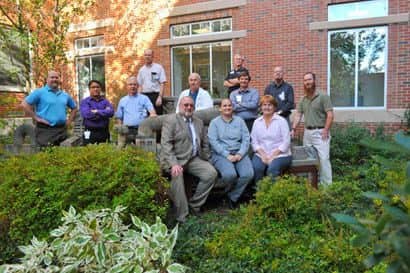 Back row (L-R): Brian Laverty, Ricardo Lau, Vincent Sodano, Gary Richer, Vince Fierro, Bob Donovan, Peter Lucas, Eric Miller, Jason Day, Front row (L-R) Alan Barton, Bridgette Gibbs, Tina Beligotti
Arnot Ogden's clinical engineering department operates with four BMET Teams: one with four technicians and three with two technicians. "Each BMET takes primary service responsibility for a number of departments. This assigns ownership to the BMET and consistency to the clinical department staff, who get to know their BMETs and build a service relationship with them," Barton says. "There's a great deal of teamwork, whether the task involves a service issue or additional preventative maintenance getting completed on time. The BMETs have backup from their team and cross-coverage from the other teams."
For instance, Fierro, who oversees the laser program, has primary responsibility for the OR, where he maintains and repairs the high-tech equipment and trains new staff. His other inpatient duties include servicing the cardiac catheterization labs, the recovery room, and anesthesia and perfusion. In addition to in-house service, Fierro often spends much of his day in as many as five outpatient offices and clinics. "Any biomedical technician will tell you, there is no such thing as catching up. We have to rely on each other!" he says.
Staff work a typical shift Monday through Friday, but remain flexible when need be. "Often, when we are at full census, it's difficult to get access to patient equipment in some areas, particularly the outpatient departments," Barton says. In such instances, "BMETs might work late shifts or on the weekend to make more effective use of their time."
Longevity is a hallmark of the department, according to Barton. "Our most senior BMET has 38 years of experience. Across our 10 BMETs, we have more than 220 years of clinical engineering experience," he says, adding that there have not been any staff changes in 4 years.
Barton gives special credit to the department secretary, Tina Beligotti, who is a "huge internal resource." She keeps a list of all BMET department responsibilities and dispatches service to staff and vendors. Additionally, she manages all the documentation for parts and service, vendor-service contracts, and other essential functions.
BMET training models at Arnot have changed somewhat over the years. "We do rely more now on vendors to do some level of on-site training. For many equipment installations, a sales and service rep comes in and goes through the equipment operation, typical problems, and repairs," Barton says. For some of the more expensive and complex equipment, a BMET may be sent for off-site training. For example, staff BMET Peter Lucas was trained to perform first-response service and preventative maintenance when the hospital purchased five digital mammography systems. As a result, it saves $26,000 annually. "It's easier to justify training for equipment of this magnitude and savings like that," Barton says.
To keep up to date, department staff use virtual training and consult the manufacturer user and service manuals that can be downloaded or linked to through the CMMS. "They can call up the manuals electronically," Barton notes. "We've also done web conference training with vendors. Recently, an infusion pump vendor did a 2-hour training session online. We hope to see more of this form of training."
Building a Health System
The acquisition of two other hospitals in the last 3 years has enlarged the Arnot Health System substantially. "We've been in a constant state of flux, but having a flexible staff has been a real plus. We're problem-solvers," Barton says, citing the challenge of standardizing processes, policy and procedures, quality assurance, and performance reporting among all three facilities.
In addition to the union of three separate medical facilities, Arnot Health has transitioned each facility from Joint Commission accreditation to DNV over the past 3 years. This year, Arnot Ogden received ISO 9001 certification. This switch stems from the board of directors, Barton explains: "The board saw good-quality reasons to make the switch from The Joint Commission. It's a different way of doing things and fits well with our engineering principles."
With respect to clinical engineering, DNV has focused its attention on calibrating test equipment and tracking its use. The process requires extensive documentation, which enables clinical engineering to identify which test equipment has been used to test each piece of medical equipment in the event of test equipment failure or calibration error.
The clinical engineering department was one of the first to expand its services into the newly acquired hospitals, Barton says. BMETs Day and Lucas are primarily responsible for overseeing the integration with Ira Davenport Memorial Hospital. Their first order of business was to compile an inventory list of high-risk equipment, inspecting and setting them up department by department. "We began with the ICU, emergency room, and operating room, verifying inventory and adding a lot more," Lucas says. "There were 450 pieces at the beginning. After the first year, there were more than 750."
The biggest challenge for the two technicians has been getting through the "pain of the merger," according to Lucas. "I've been on both sides of a merger and understand the apprehension involved. They thought we would come in and make them do things our way." Instead, Lucas says, "We tried to blend in. We'd sit in committee meetings and see how they wanted reports done." The health system has since worked intently on standardized reports, policies, and procedures.
The merger has also increased clinical engineering's responsibilities for dialysis, according to Barton. "Before the merger, we had five dialysis centers, one inpatient and four outpatient within a 30-mile radius," he says. "After the merger, St Joseph's Hospital had its own dialysis program, so now we have six locations."
Medical Residency Program
In spring 2013, Arnot began a medical residency program with the Lake Erie College of Osteopathic Medicine (LECOM). Between 25 and 30 residents and more than 50 medical students complete some of their requirements on the Arnot campus, which has added to clinical engineering's responsibilities. "Teleconferencing and videoconferencing are big components of the medical residency program. One day a week, the residents connect with their professors or with a doctor. It's grown so big that they use two conference rooms," Barton says. One biomedical technician takes care of the equipment in the rooms, which share audio and video systems that include DVD players, LCD projectors, video cameras, and other electronic equipment.
Clinical engineering has begun transitioning the conference rooms, replacing traditional and star phones with microphones in the ceiling, a webcam, and separate computers in each of the two rooms that can share information through built-in switching networks. With the increased use of the conference rooms and related equipment, clinical engineering is collaborating with MIS to develop a more efficient AV system.
It's been 23 years since Barton walked through the doors at Arnot. During his tenure, he's been able to cross all of those 50 initial goals off his list. A critical element in his success, he says, has been the hard work, dedication, and collaborative approach of his staff. "As I look at the merger, there has been significant teamwork within clinical engineering and other departments that has gotten us through," he adds. "Having strong basic clinical engineering and clinical management fundamentals has been key." 24×7
Phyllis Hanlon is a contributing writer for 24×7. For more information, contact Editorial Director John Bethune at [email protected].