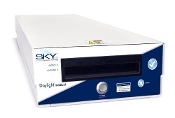 A new disinfection technology for mobile devices uses high-intensity ultraviolet light to disinfect mobile devices. Manufactured by Daylight Medical, the SKY 6Xi is intended to reduce the risk that hospital-acquired infections (HAIs) are transmitted to patients or healthcare workers.
According to the company, the device's 254 nanometer wavelength UVC light is designed to address harmful pathogens such as MRSA, VRE, MDR-gram negatives, Norovirus and C. diff spores. Such pathogens are often transported by mobile devices, whether provided by the hospital or belonging to individuals. The new device, Daylight Medical says, "provides safe, effective disinfection of phones and tablet PCs in seconds."
Daylight Medical also offers a sleeve technology that allows mobile devices to be taken into critical care environments while protecting the device and preventing pathogen accumulation in  recesses such as a charging jack or earphone input. The SKY sleeves can be purchased with photochromic markers. When a mobile device is placed in a SKY photochromic sleeve, a checkmark is revealed when it is exposed to  UVC light during  disinfection. The marker is a visual notification the device has been successfully processed. Device disinfection can be done as often as required by hospital protocol and in accord with infection control mandates.