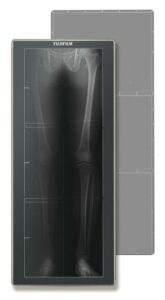 Fujifilm Medical Systems will showcase its FDR D-Evo GL DR detector for single-exposure, long-length digital imaging at this week's American Association of Orthopaedic Surgeons (AAOS) Annual Meeting in Orlando. The world's first long-length digital radiography (DR) detector, the D-Evo GL has recently received FDA 510(k) clearance and will be readily available in the United States this spring. Scoliosis and other long-leg imaging exams will particularly benefit from this technology, Fujifilm officials say.
Featuring a 17-inch by 49-inch field of view, the single-exposure DR system accelerates exam acquisition—which, in turn, lowers movement and reduces the need for retakes. Such technology is in contrast to conventional DR stitching systems, which require multiple exposures, take longer to acquire, and increase chances of patient motion and pain during exposures.
Unlike computed radiography long-length imaging, the images on D-Evo GL's DR display in seconds instead of minutes—thus reducing radiation dose by as much as 50%. The system also features Fujifilm's patented irradiation side sampling and noise-reduction detector circuitry to boost performance and help produce clear images at very low radiation doses.
Rob Fabrizio, Fujifilm's director of marketing and product development, believes this technology will be a game-changer for orthopedic surgeons and other health care professionals. "We are excited to introduce [AAOS attendees] to the long-awaited benefits that single-exposure DR dose-reduction and image quality will bring to their patients in the diagnosis, planning, and monitoring of scoliosis and long-leg orthopedic treatments," he says.
For more information about this technology, visit Fujifilm Medical Systems' website.