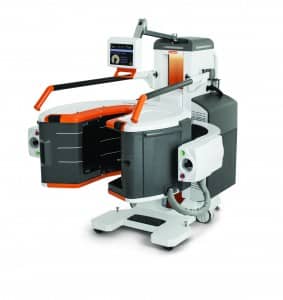 Carestream Health has announced that HUS Medical Imaging Center, based in Helsinki, Finland, is undertaking the first European clinical study of the new OnSight 3D Extremity System in pre- and post-operative cases. HUS (Helsinki-Uusimaa District), serves a population of 1.5 million people in and around Helsinki, and includes the largest trauma imaging center in Finland, specializing in the treatment and rehabilitation of up to 90,000 orthopedic and trauma patients per year.
According to Carestream, the study of the company's new cone beam CT (CBCT) scanner and image reconstruction technology, applied within orthopedic imaging, will last 6 months and is expected to yield data for both HUS and Carestream regarding pre- and post-trauma studies involving new algorithms and advanced technology.
The Carestream extremity CBCT system, which is still investigational and not available for commercial sale, captures low-dose, high-quality CT images for orthopedic medicine, delivering 3D weight-bearing images at the point of care, which is not otherwise possible with traditional CT.
During the research work, experienced radiologists at HUS will reportedly evaluate the image quality in bone structure, fractures, and the level of metal artifacts. In addition, a medical physicist will contribute to the physical image and radiation exposure assessment.
Carestream reports that the CBCT can be utilized as a low-dose 3D imaging method in both pre- and post-operative diagnostics. New iterative image reconstruction helps to mitigate image artifacts caused by metallic implants that can typically be present in many orthopaedic cases. Thus, diagnostically relevant structures such as bone fractures of different size and shape, and joint surfaces, as well as soft tissue, can be evaluated more clearly.
For more information about the OnSight 3D Extremity System, visit the Carestream Health website.