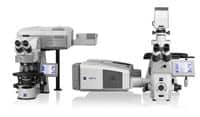 Carl Zeiss introduces the LSM 780, a confocal laser scanning microscope that features an almost doubled rate of sensitivity and counting, and increased speed and image quality that lets the user analyze single molecules at a new level.
The Carl Zeiss confocal laser scanning microscope has a high-sensitivity GaAsP detector, new software functions for single molecule and high dynamic range imaging, and a 355nm CW laser.
"The LSM 780 shows that we are striving to continuously lead the way in the world of optical sectioning technologies," said Ralf Engelmann, product manager at Carl Zeiss Microscopy.
According to the release, it features a highly advanced internal spectral detector, giving the LSM 780 the ability to show the whole color spectrum of dyes without any extra settings. This innovative new feature provides the added benefits of saving the operator time and reducing data volume."