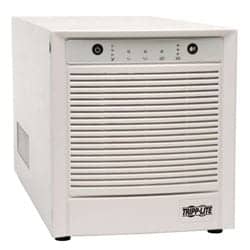 A high-capacity uninterruptable power supply (UPS) system offers a 2200VA/1920W load capacity, full line isolation, and leakage current reduction to less than 100 microamps for optimal safety in patient care areas. Full isolation also provides continuous noise filtering and enhanced common mode surge suppression to safeguard equipment. The SMART2500XLHG UPS is suitable for use in clinical labs, diagnostic imaging, ophthalmology, medical equipment, and other devices requiring medical-grade protection and leakage current reduction.
Compatible with the third edition of UL 60601-1, the unit includes USB and DB9 communication ports work with included PowerAlert software to enable remote monitoring and control. NEMA and IEC C13 outlets ensure universally adaptable outlet options.
More information on the SMART 2500XLHG UPS is available on the Tripp Lite website.