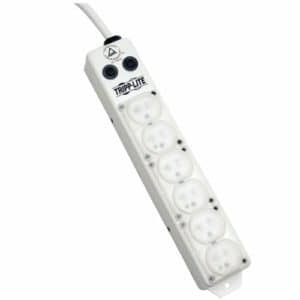 Tripp Lite has expanded its line of UL 1363A-compliant medical-grade power strips approved for use in patient-care vicinities with the new PS615HG20AOEM medical-grade power strip.
The PS615HG20AOEM is approved for use in operating rooms, patient-care areas, therapy rooms, imaging environments, and administrative areas. This medical-grade power strip has six 20-amp outlets and mounts to IV poles, crash carts, and other mobile equipment for use inside and outside the patient-care vicinity. Among the PS615HG20AOEM's features is a 15-foot, 12-guage power cord that allows medical personnel to move connected equipment close to patients. Two industrial-grade 20-amp circuit breakers are intended to protect medical equipment from overloads and short circuits.
The PS615HG20AOEM was designed to meet the requirements outlined in the CMS categorical waiver, which allows the power strip to be used in healthcare facilities and patient-care vicinities if the provider or supplier meets all of the listed requirements. Additional features include a NEMA 5-20P-HG hospital-grade plug and NEMA 5-20R-HG hospital-grade outlets that comply with UL 1363A specifications. Integrated locking safety covers guard against access to unused outlets and require a tool to be removed.
For more information on the new medical-grade power strip, visit the Tripp Lite website.