The use of wireless technology in hospitals has grown at a feverish pace due to its ability to improve communication, patient monitoring, workflow, and productivity. But as hospital departments continue to add different wireless systems to their technology portfolios, challenges continue to surface due to compatibility, frequency interference, and security. Developing a versatile wireless network that serves multiple purposes is no easy task for hospital clinical engineers, biomedical equipment technicians, and IT professionals responsible for these projects.
As wireless communications manager for Partners HealthCare System in Boston, Rick Hampton knows these challenges all too well. Hampton has the distinct privilege of being the country's only wireless technology manager in a hospital setting. Many IT professionals or clinical/biomedical engineers share similar responsibilities, but to Hampton's knowledge, nobody else is strictly responsible for wireless technologies. Hampton's position was created in 2000 when the 10-hospital system's IT department planned to deploy a wireless local area network (LAN) just as its biomed department announced the launch of a wireless patient monitoring system. Since both systems relied on the same frequencies, there were concerns about how two wireless systems could coexist and be monitored to avoid interference. The end result was that Hampton was hired to manage this project and many others.
Hampton was the perfect candidate for the job because in addition to a background in wireless technology, he had experience as a clinical engineer. One of the biggest challenges even to this day in hospitals is developing a strong working relationship between biomeds and IT specialists so that a sound strategy exists for managing existing and emerging wireless technologies. "I believe the most important thing biomeds and clinical engineers need to do is learn how to work effectively with their IT departments," Hampton stresses. This working relationship is essential as more and more devices are introduced that can connect to a hospital's wireless 802.11 network. As this occurs, the devices clinical engineers and biomedical technicians are responsible for are typically subject to the policies and protocols established by the IT department.
The Value of Training
Due to the complex nature of new and emerging wireless technologies, hospitals are recognizing the importance of staff training provided by IT and device manufacturers. Feedback has been extremely favorable for GE Healthcare's vendor-neutral courses that address general areas related to wireless devices as well as specific topics covering issues such as security and frequency coordination.
"One of the biggest issues in the wireless world is how do you troubleshoot something you can't see," explains Leanne Cordisco, business development manager, education services, for GE Healthcare Technologies, Madison, Wis. "We try to take the mystery out of that by exposing students to different troubleshooting tools, such as spectrum analyzers, freeware, and sniffers, so they can have a much better grasp on how to solve their problems."
Training is particularly important because compliance with HIPAA requires that hospitals not only must employ trained staff, but they also must guarantee that patient information and records are kept confidential and secure. "In the United States, HIPAA is driving patient security and safety, and yet wireless technology is inherently insecure, which means it's particularly important for employees to understand HIPAA's requirements so they can make sure the equipment is in compliance with these requirements," says James Rizzo, CNT, IT instructor for GE Healthcare's course, "Securing the Healthcare IT Environment."
One of the frustrations for health care personnel is that integrating the hospital security policy to incorporate medical devices is a fairly new task due to HIPAA's requirements, which were introduced just several years ago. Rizzo adds that his class offers a soup to nuts approach on how to operate a security or risk management plan that includes HIPAA compliance.
In addition to security issues, hospital employees also seek information about managing frequency coordination. "Biomeds particularly need to understand the technical considerations behind wireless, so that everyone in the department can be a troubleshooter," Rizzo explains. "If a system is experiencing signal dropout in an area of the hospital, an investigation by a biomed or other employee may find a simple explanation for the problem, such as a policeman outside the hospital using a radar gun catching speeders."
According to Cordisco, the success of any wireless system depends on four factors: reliability, uptime, scalability, and security. But in many cases, clinicians and other staff who play a role in deciding which equipment to purchase often end up with systems that don't meet these four criteria. "When they're getting ready to select equipment, they say they want it to be fast and they want it to be wireless," she says. "They often don't understand the ramifications."
—CD
Many biomeds also find it helpful to take continuing education classes in electronics and telecommunications. Although most biomeds have a general understanding of wireless technology, particularly telemetry systems, many are unfamiliar with areas such as radio frequency and other networking applications.
Leanne Cordisco, business development manager, education services, for GE Healthcare Technologies, Madison, Wis, concurs that coordination between IT and clinical and biomedical engineering departments is critical in developing effective wireless networks within hospitals. Cordisco, who develops wireless technology training sessions for hospital personnel, adds that the most successful institutions are those that bring together all of the stakeholders affected by wireless technologies, including risk management, purchasing, facilities management, finance, and nursing, along with IT and clinical/biomedical engineering. "There must be a total systemic approach to managing wireless technologies," Cordisco says.
New Devices, New Solutions
One of the most challenging aspects is that there are so many wireless technologies available for the health care setting. When Hampton first joined Partners HealthCare, he compiled a list of all the wireless technologies hospitals use and shared it with the FDA and FCC. "They were shocked, and this was back in 2002; you can only imagine how long the list would be now," Hampton says. Obviously, one of the biggest concerns with this explosion of new technologies is radio frequency interference. "But with good spectrum management techniques, many interference problems can be avoided," Hampton says.
One would think that Partners HealthCare boasts an extensive wireless system with all the latest enhancements, particularly since it recognized early on the growing importance of the technology. But Hampton is quick to point out that since the technology is still evolving, his institution has taken a cautious approach in re-architecting its infrastructure to accommodate these devices. "Manufacturers use hyperbole and other marketing strategies when selling these technologies, but it's important to recognize that there's no one-size-fits-all solution when it comes to deploying specific devices," he says. A case in point is a distributed antenna system designed to support a number of wireless technologies over one antenna system. Partners HealthCare uses distributed antenna systems, but it does not place every wireless network on them because in some cases this load is detrimental to the functioning of all the systems. Despite claims made by some manufacturers, some antenna systems cannot handle certain types of medical telemetry equipment.
"We're actually constraining the deployment of new technologies to make sure they work well with one another," Hampton says. "We look very closely at the impact of these systems so that when you put them together you don't end up in a position where you have a wireless LAN working flawlessly, only to find that when you bring in one more application the whole system breaks. You have to pay attention to your design requirements."
Proper Planning
Hampton has seen many hospitals invest in wireless technology only to find that the devices they purchase were unable to support needed applications. It is for this reason that he stresses the importance of working with the IT vendor and device manufacturer to ensure that equipment will work prior to being purchased. "Some companies make broad claims about what they can provide, so it's important to do your homework first before making large investments," he says.
Before a hospital even meets with various vendors, it must perform a baseline inventory of its wireless devices. This should include current technologies as well as wireless devices expected to be acquired in the future. This inventory can be set up as a flat data file, spreadsheet, or a relational database. A major part of this plan should be a complete spectrum analysis of all frequencies occurring throughout the facilities. Once a complete spectrum analysis is performed, regular wireless site surveys need to be conducted. Testing also should be conducted in a controlled environment with other sources of electromagnetic interference. Biomeds should play a role in taking these equipment inventories and performing tests. They also should work closely with the IT department to define the policies and procedures related to these devices and their usage.
The selection of an operating frequency also is extremely important. In some situations, an 802.11b/g device operating at 2.4 GHz may operate without any problems; however, in some installations, an 802.11a device operating in the 5GHz band may help avoid or reduce interference.
When proper planning occurs, hospitals can achieve success with their wireless applications. A case in point is Partners HealthCare's cell phone coverage. When Hampton joined the hospital, physicians wanted to be able to use cell phones for clinical and personal matters, but they had difficulty getting a signal. After considerable research, Partners developed a cell phone service with a distributed antenna system that makes it possible for physicians, other staff, and visitors to use cell phones essentially anywhere in the hospital campus. "We don't expect to never see a problem with the cell phone system, but we're comfortable with the risks that are involved," Hampton says. "We're now in the process of deploying a wider telemetry system."
Wireless Medical Telemetry
A wireless telemetry medical system (WTMS) has many advantages, but one of the greatest patient care benefits is that patients can be monitored throughout the facility, which improves patient care and the patient experience. The technology makes it possible to monitor patients anywhere within the building—in the patient room, in the hallway, and even in the elevator—which ensures comprehensive and continuous observation. A major advantage is that real-time information is available when it is needed.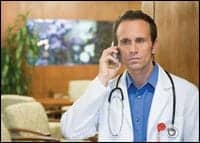 Partners HealthCare developed a cell phone service with a distributed antenna system so physicians can use cell phones anywhere in the hospital campus.
In some areas of the hospital, wireless medical telemetry is particularly appropriate such as in neonatal intensive care units and operating/recovery rooms where hard wiring can be impractical. Areas with an overflow of patients, such as in emergency departments, also benefit since patients can be monitored from any bed.
A few years ago when WMTS was being implemented in many hospitals, electromagnetic interference was a patient safety concern. As a result, in 2005 the American Hospital Association and the American Society of Healthcare Engineering began requiring hospitals to register their wireless medical telemetry devices. This type of frequency coordination now allows hospitals operating within the same geographic region to operate similar WMTS equipment without experiencing interference. Hospitals today are looking beyond their institutions into their communities to make sure their hospitals' WMTS devices do not interfere with the wireless technologies of police and fire departments, or even special events that might take place in their areas such as the Super Bowl. Frequency coordination also should be incorporated into emergency planning, because if a natural disaster or other catastrophic event occurs, wireless devices need to be free from interference.
Looking to the Future
As greater utilization of wireless technology occurs in the health care setting, Hampton predicts that an overabundance of medical devices connected to wireless LANs eventually will bring about even more regulation of this technology. "Hospitals cannot just keep plugging devices together without paying attention to due diligence," he says. "The FDA requires that all medical devices be safe and effective, but the question becomes, when will a LAN be viewed as a medical device?" Hampton believes that since there is a growing trend for connecting many medical devices to a LAN that it is only a matter of time before the LAN becomes a regulated medical device. "I don't see how it can be prevented when you look at the definition of a medical device."
The industry is exploring these issues as the IEC 80001 standard on the application of risk management for IT networks incorporating medical devices is currently being developed. The standard will specify general requirements related to safety, effectiveness, data and system security, and interoperability. It will define responsibilities for medical device manufacturers, nonmedical device manufacturers, hospitals, IT network integrators, and others involved in the installation, use, reconfiguration, and maintenance of wireless networks incorporating medical devices. The standard will address risks related to patients, operators, and third parties.
Regardless of how much regulation occurs related to wireless technologies, one thing remains clear: hospitals need to make sure they perform their own due diligence and risk management related to these devices. "We're the ones integrating these systems; manufacturers are not telling us how to do this integration," Hampton says. "Careful attention must be paid to make sure these systems are safe, effective, and secure."
---
Carol Daus is a contributing writer for 24×7. For more information, contact .