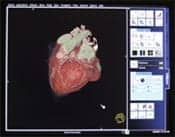 By integrating a PACS solution with existing data infrastructures, clinicians can access entire patient records—complete with diagnostic-quality images.
With government backing for the institution of electronic medical records in place, picture archiving and communication systems (PACS) are becoming even more important in a medical organization's overall architecture. By integrating a PACS solution with existing data infrastructures, clinicians can access entire patient records—complete with diagnostic-quality images.
For the professionals responsible for maintaining medical networks and equipment, this evolution means more than just convenience and improved patient care—it creates a new paradigm, with traditional roles becoming somewhat blurred.
To learn more about the challenges facing biomedical and clinical engineers working with PACS systems today, 24×7 takes a closer look at organizations with varying experience using the technology.
Early Adopters
The PACS at Baystate Health, Springfield, Mass, has been in place for about 10 years, almost as long as the technology has been on the market. Consisting of three hospitals and three off-site imaging centers, the organization's radiology departments perform somewhere between 300,000 and 350,000 procedures per year. These exams are housed on 19TB of server space.
Historically, the PACS solutions have been sporadic and departmental in nature, but this past June, an upgrade was made to unify the existing radiology systems.
"We have specialties across the health system, and this new PACS provides a single database; giving us a single patient record," explains Jeff Bronke, an IS application analyst at Baystate Health. "The entirety of patient information is stored in a central location, and as such it is accessible from anywhere across the health care network."
The PACS solution stores only the images, with the health record residing on a clinical information system. Diagnostic workstations in each location's radiology department provide space for physicians to read and dictate reports.
The Backup Plan—Deciding How and Where to Store Backup Files is Key
It doesn't take a massive natural disaster, such as a hurricane, tornado, or flood, to demonstrate the need for a backup plan. It can be something as basic as a power outage, just like those that plagued the country's midsection earlier this winter.
Many consider the ultimate backup scenario to be a mirrored site—one in which the exact same images, including pre-PACS studies, are stowed on a server in a far-away location.
This is exactly what Jeff Bronke, IS application analyst, Baystate Health, Springfield, Mass, is looking to achieve.
"We have remote storage mirrored, but are working on an entire disaster recovery site that is actually in another city," Bronke says. The hospital, which fired up its first PACS system about a decade ago and today logs in more than 300,000 imaging studies onto its 19TB of storage space, tasked its internal IS department with this undertaking, rather than outsourcing the work to its PACS vendor. "We are also doing some historical migration as well, by date range, so the studies are readily available to our clinicians."
While it may be ideal, it is also very pricey, so exactly how a facility stores its pictures depends a great deal on its individual needs and budget.
"We have shadowing set up, so there is an exact replication of all of our images stored here at the hospital at our [independent] imaging center facility," says Todd A. Starnes, PACS system administrator at Catawba Valley Medical Center, Hickory, NC. His hospital produces roughly 110,000 exams each year, which are housed on 6TB of storage. Choosing to institute off-site storage was done for reasons beyond disaster recovery. "We also did it for speed, patient care, and business continuity because if anything happened here, all of our images would be gone. With the backup, we could continue to work using all of the images at the imaging center."
At Catawba Valley Medical Center, the duplicate server was installed and continues to be maintained by an in-house IT team, rather than having a PACS vendor handle the additional hardware.
"We chose to maintain it ourselves for the sake of speed," Starnes says. "We have a competitive facility in our hometown that has exactly the same PACS system, and they pay for an off-site storage provider. Both facilities share the same radiologists, and the physicians' perspective is that when you try to retrieve something that is not online, perhaps something that is a couple of years old, it takes forever. Ours is instantaneous, because it is on our own storage area network (SAN) and PACS."
With its PACS system in place for a relatively short time, it is in the situation many facilities find themselves in. "Right now, all of our storage is in-house, but I would like to eventually get it so that we have some off-site," explains Sean Keeley, the senior clinical engineering technician/PACS administrator for Harbor Hospital, Baltimore. The hospital performs approximately 80,000 exams each year, which are stashed on its 3TB of storage. "We make daily tape backups, we have a jukebox server, as well as NAS [a network-attached storage server]."
No matter how it is executed, any PACS expert will tell you that duplicating the system's precious cargo is not an option—it's a necessity.
—DH
Additionally, every desktop computer throughout the facility has been programmed to allow access to the clinical information system, including PACS-based images, for authorized individuals.
Moving Into the Community
The PACS at Catawba Valley Medical Center, Hickory, NC, is roughly 5 years old and, like the system in place at Baystate Health, it uses a thin client approach to allow enterprise-wide access to the PACS.
One of the primary alternatives to Web-based remote access, which uses a secure online portal to allow medical personnel to log onto the PACS from any computer capable of getting onto the Internet, thin client applications rely on the central server to conduct most of the processing activities, improving the responsiveness at workstations.
"We chose a thin client so the radiologists can dictate everything in real time," says Todd A. Starnes, the facility's PACS system administrator. "For us, it was a patient care issue. Within the software we use, there is an exam note or sticky note option. A radiologist enters preliminary results, and that information is posted as a virtual sticky note on the image. If he is consulting with an ER doctor, for example, he can say whether he thinks it is a fracture or not, and when the ER doctor opens that exam in PACS, he must acknowledge reading that note before he even sees the image. It guarantees that the information is communicated to everyone who needs it, and that is not available with the Web product."
In addition to its medical center and outpatient imaging center, the hospital—which puts its estimated 110,000 exams per year on 6TB of storage—also employs a mobile truck that brings digital mammography capabilities to patient work sites.
"We schedule a day at the facility, and they rotate through as the supervisors at their facility designate," Starnes says. "We probably see 20-35 patients a day with that truck." Getting the massive mammo files from a mobile unit back to the PACS proved something of a challenge. "A mammogram image is anywhere from 20MB to 45MB, where by comparison one CT is just 1MB; wireless is so slow it is just not feasible. So, what we have is a sort of 'sneakernet,' if you will."
The solution was to purchase several 120GB USB external hard drives, onto which a day's worth of exams are stored while the truck is on-site. At the end of the day, those drives are exchanged at the hospital for two that are blank. Administrative personnel take those images from the drives and push them into the PACS.
Catawba Valley Medical Center also shares its radiologists with other facilities in the region. As a result, the physicians spend time in a "bunker": a physical space where radiologists can wait comfortably while they are on call and have immediate access to images around the clock.
In addition to being a place to eat, sleep, and rest while on call, the bunker is equipped with three separate workstations, each connected to a different local hospital via a VPN, or virtual private network. This enables the clinicians to log in and view diagnostic-quality images, dictate reports, and access patient records just as if they were sitting within the medical center, making it possible to cover three different hospitals after-hours from a single location.
Creating this off-site resource was a collaborative effort between the radiologists—who provided the hardware and real estate—and individual health care organizations that took responsibility for handling the software and licensing requirements.
Getting Up and Running
At Harbor Hospital, a Baltimore-based facility that is part of a seven-hospital system, the PACS system was put in place about a year ago. In addition to about 20 diagnostic-quality workstations installed throughout radiology, as well as in the emergency department, an in-house Web solution was installed on more than 500 computers in the hospital.
"The doctors can log into that and use that version," says Sean Keeley, senior clinical engineering technician/PACS administrator for Harbor Hospital. "They cannot do diagnostic-quality reads, but it provides a lot of detail, so they are able to do wet reads from almost anywhere in the hospital." In its first year online, the PACS acquired roughly 80,000 exams, and plans for the rapidly growing system include placing workstations into the operating room and with three off-site orthopedic groups.
"Having access to the PACS will enable surgeons to do the orthopedic templating, so they will be able to plan out their surgery before they go into the operating room," Keeley says.
Seeking Support
Though the experience and expanse of each of the aforementioned hospital PACS solutions cover a broad range, all three PACS professionals voice the same sentiments when it comes to how biomeds and clinical engineers should jump into working with these systems. They also address the question about whether it is better to have an IT person handle the PACS, or clinical and biomedical engineers who also understand the medical side of it.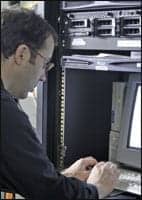 Developing the appropriate skill set by learning about computers, networking, and servers, and attending courses about your facility's specific product, is essential.
"I think it's especially important to have both [medical and biomed experience] in your background, though I can't say if one should absolutely come first," Starnes says. Currently working in the IT department, Starnes boasts an extensive biomedical engineering background. "You can't be an absolute expert at both, but I don't think you can support the system and your facility to the best of your abilities if you don't know as much as you can about both sides."
Keeley agrees. "You definitely need to know about both the technical and medical aspects in order to maintain a PACS," he says. "Having knowledge about the radiology side is important for the front-end performance, and you need to have the IT experience for the back end."
In addition to on-the-job training, Keeley encourages biomeds interested in supporting PACS to make the most of vendor-provided training.
"Learn whatever you can about computers, networking, and servers, and attend courses about your specific product," he says, adding that maintaining an amiable relationship with the tech guys is imperative. "I work well with the in-house IT department. We have a great team, and it's been very helpful."
For Bronke, whether or not biomeds are interested in diving into the world of PACS may not be the question.
"Now everything is interconnected. Having one CT down is no big deal anymore, but if you take the entire PACS product down, it is a huge ordeal," he says, adding that if biomeds do not become knowledgeable about how network infrastructures impact the hospital, their status will change within the organization. "Clinical informatics is really the future, and if the biomed cannot do it, the hospital will give the mobile device to the biomed to fix and simply plug in a new one to keep things going."
Delivering Service
Not only is developing the appropriate skill set essential, but so is having rapid response times. This one fact could be an argument for why the responsibility for the PACS and some of its components should fall under the clinical or biomedical engineering departments.
"'Stat' to a person who works on PCs might not be the same time frame as it is to a person who is in the radiology department, and vice versa," Starnes says.
"Clinical engineering, historically, responds to calls in the minute time frame, as compared to hours and days," Bronke agrees.
No matter where the responsibility for the system ends up, the biomedical and clinical engineering teams need to stay active and maintain a participatory role.
"All of our systems run on the hospital network, so if the clinical engineering and biomedical engineering departments do not actively engage in learning more about informatics and IT, they will turn into bench repair people," Bronke says. "Because it is much easier to have someone who understands the big picture there, who can do almost everything."
---
Dana Hinesly is a contributing writer for 24×7. For more information, contact .