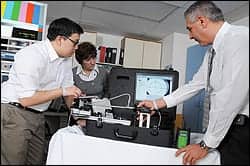 L-R: Tristan Ramas, MS, CE, Carole Volpe, clerical coordinator, and Joe Veneziano, CE, perform evidenced-based quality assurance on a rigid scope and light cord using the Dragonfly and Firefly test devices from Unisyn Medical Technologies.
With medical care so dependent on increasingly complex medical equipment, patient safety demands that clinical/biomedical engineering departments become more involved than ever. Administrators at Saint Mary's Hospital, Waterbury, Conn, have understood this for a long time. As a result, Ted Barbeau, director of clinical engineering, has a hand in a variety of nontraditional clinical engineering workings at the facility.
Holding the additional title of safety officer, the biomed veteran of more than 2 decades sits on a lot of committees these days. It was not always this way. "Expectations of our function have changed a lot," Barbeau says. "When I first started working here more than 20 years ago, my boss maybe sat on the employee safety committee and the capital budget committee."
Since then, administrators at Saint Mary's have taken pains to integrate the department into numerous facets of health care delivery. Product standards committee? Check. Regulatory oversight? You bet. Even the nursing leadership committee has a clinical engineering presence.
The philosophical approach leads to a culture where biomeds do not merely look at devices that hook up to patients. "As part of the product standards committee which Anders Johansson, CBET, sits on, we're looking at new catheters, lotions, blood pressure cuffs, or any new supply that patients can use," Barbeau says. "If there is a new regulation, we know about it. All this not only helps the environment of care, it improves medication management, human resource standards, and ultimately, the whole hospital."
Members of the nursing leadership committee have come to appreciate biomed involvement, and when it comes time to look at new devices, they seek clinical engineering input. "We are also on the workers' safety committee, the Environment of Care committee, and the value assessment committee," Barbeau adds. "We look at the financial end and the medical end. All new equipment must go through that committee before we will be allowed to get a no-charge purchase order and get it in here for evaluation."
Safety Through Innovation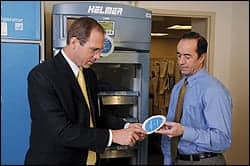 L-R: Ted Barbeau and Dan Sullivan, director of pharmacy, discuss the magnetic medication management calendar Barbeau designed.
With nine staff members (eight full time and one part time) overseeing 4,500 pieces of equipment, the biomed department stays busy. More importantly, they are able to leverage a wide-ranging knowledge base that fosters improvisation when necessary.
Joe Veneziano, CE, found out that surgeons were looking for a device that could serve a dual purpose as a mount for two IV poles, but also be situated so clinicians could hand off defibrillator cables and IV lines over the top of the sterile field and into the nonsterile field where the cables could be connected to the appropriate equipment.
Clinicians wanted to be able to do this at the head of the table so nothing would fall down and get contaminated. "I created a special bracket assembly by improvising with two clamps from a Philips monitor that is used for mounting multiparameter modules," Veneziano explains. "I took two of those and an old IV pole off of an old cart, and I tapped both ends of them with a certain thread and screwed the brackets into each end—both of which were mounted to IV poles. They really liked it. I didn't think much of it, but they made a big deal. I ended up winning the innovation award for the year."
This matter-of-fact inventiveness becomes contagious at Saint Mary's, and the examples are numerous.
A special bracket designed by Saint Mary's clinical engineers, and specially made by a local machine shop, allows biomeds to mount invasive blood pressure manifolds so they are not in the way of anesthesiologists who are routinely involved with open-heart procedures.
When anesthesiologists needed a scope light mounted to the side of a machine, Greg Varcas, CBET, designed a plate to bolt to the anesthesia machine. Diane Lassy, CBET, who works part time as a biomedical technician at Saint Mary's, got into the act by recruiting her husband to help out. "I asked my husband (who owns and operates a machine shop) to make us plates, which were to be bolted to the side of the device for the scopes," Lassy says.
A magnetic "medication management calendar wheel" to support the new 28-day Joint Commission medication management standard for multidose vials is yet another innovation. The idea germinated from within the regulatory oversight committee, and Barbeau ultimately came up with a design featuring a perpetual circular calendar.
One arrow points at the current date, and another arrow points 28 days in advance. It is completely magnetic in the back, and will stick to any refrigerator. "It is handy and people can't say they are going to lose it, and that is why I made it magnetic," Barbeau says. "I am going to try to market this for Saint Mary's as soon as we get a working model in the next few weeks. We have already had prototypes out there and people like it, so I'm confident it is going to be well received."
Rules of the Game
Everyone who plays ball at Saint Mary's eventually comes to know the rule: Three strikes and you get educated. The policy grew out of a familiar scenario that most biomeds know all too well. An item gets checked, no problems are discovered, and still the equipment ends up back in the queue a few days later.
It can get frustrating, but there is a way to make it stop. "If a device shows up in our department three times within a specific quarter and there is no problem found, we go back and do a mandatory in-service education," Veneziano says. "There is probably a user out there who needs some reinforcement education for that device. This person may think there is a problem with the equipment, but it really just speaks to proper use."
In the case of defibrillators, the state of Connecticut requires a daily discharge test, but even with such vigilance, problems can crop up. In one case, users were attempting to use a unit with the internal mode selected, which acts as a type of safety latch. In this case, the mandatory in-service took all of 30 seconds, but time saved down the road was far more dramatic.
Spiritual Meets Physical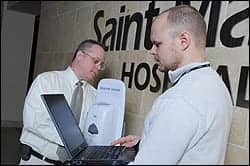 L-R: Jim Gamache, CBET, and Anders Johansson, CBET, download a new sound bite into a Sani-talker situated in the main lobby of the hospital.
More than a century after laying the cornerstone in 1907, innovation at Saint Mary's Hospital remains a part of the mission that includes a spiritual component. While the days of multiple on-site clergy members are gone, Barbeau makes it a point to never lose sight of the founders' aims. "We are a Catholic health care organization, and most of the religious staff that used to operate within these walls are gone," he says. "In fact, there is only one nun left on a day-to-day basis, so I joined a committee to support the mission of the hospital—and that is to provide excellent health care in a spiritually enriched environment to improve the health of our community."
When it comes to the decidedly worldly endeavor of imaging, looking inward via technological means has led Saint Mary's to focus heavily on repairing virtually all of its own imaging devices. The effort began in earnest during the early 1980s when imaging modalities in general became increasingly more sophisticated.
The manager of the department in 1983 came to Saint Mary's after orchestrating a large purchase on behalf of Siemens Healthcare. He ultimately left Siemens to work for the hospital, bringing along yet another imaging expert with him. From these humble beginnings came a tradition of gradually getting ahead of the learning curve.
Since knowledge has been passed down and cultivated over the years, Barbeau believes the department is better equipped to handle turnover. "As the guys who started the department got ready to retire, we had been thinking about how we were going to replace them years before," Barbeau says. "We had that 4- to 5-year learning curve, which is the biggest obstacle in a lot of hospitals with in-house departments. You don't have that kind of time to invest in new people that are going to be taking over the imaging department. We've always had two or three people involved in imaging here."
Nowadays, up to a dozen people may pitch in, but it consistently devotes at least two main people to handling the wide variety of devices that includes two Philips Brilliance CT suites that are 1 to 2 years old, plus a Shimadzu interventional radiology suite acquired in 2005. Systems on-site, to name a few, include Siemens radiology rooms, Toshiba digital rooms, and a Fisher Mammoview system.
"We just purchased a new Siemens Axiom Artis DFC, which is a vascular suite," Barbeau says. "We also do nuclear medicine. We have Philips/ADAC cameras, a new Siemens Symbia S, and a Philips cardio MD nuclear medicine camera. We have a whole line of Philips ultrasound and Siemens echo ultrasound equipment as well."
Saint Mary's Toshiba Vantage MRI system features Pianissimo technology, which significantly reduces exam noise. Instead of the loud grinding that other MRI systems produce, the sound is more akin to a gentle tapping. While in-house staff maintains most of the imaging, Barbeau uses the OEM for the Toshiba.
The Rainbow Stairwell
Working on the theory that a little exercise can lead to a healthier workforce, and ultimately better patient care, Barbeau set Tristan Ramas, MS, CE, and Alex Pinoliar, CBET, to the decidedly unusual task of creating a rainbow staircase (see cover photo). If you remember the foot-activated piano in the old Tom Hanks' film Big, you may get the idea.
The project grew out of a leadership meeting designed to boost health and wellness among hospital employees. "We built a new gym here last year, and the membership hasn't quite reached full expectations," Barbeau says. "Like any good hospital, we have elevators all over the place for our patients and visitors, but our staff use them as well when oftentimes the stairs go unattended. So I wanted to promote use of the stairs here at the hospital and make it fun at the same time. I came up with an idea to light the stairs up, and add a musical note for each step."
Since biomeds are renowned for their know-how, it was not long before Pinoliar and Ramas were asked to make the odd assignment a reality. "I have a program called multi sim where I lay out all the electronics and then I put on a prototype board," Ramas explains. "I don't have to wire anything up using a soldering iron. I just connect them on this board. Yes, I have taken a lot of electronics courses."
"There are two flights of stairs," Pinoliar says. "With both flights, there are 21 steps in all. Because of housekeeping restrictions it is not pressure activated, so Tristan designed it to work with infrared signals. I don't think you will find it anywhere else in the world."
Barbeau is now concocting a list of new ideas to keep the team busy for the next few years. Each biomed is assigned one annual "fun" project, with interns handling most of the work. The projects serve to keep things exciting while giving the Saint Mary's biomed team a slightly hipper image.
---
Greg Thompson is a contributing writer for 24×7. For more information, contact .
Tweety Bird and Bracelets
The fact that Ted Barbeau, director of clinical engineering at Saint Mary's Hospital, Waterbury, Conn, does not hesitate to imitate Tweety Bird during a 24×7 interview should tell you something about the man. He is deadly serious about biomedical excellence, but he is not afraid to have fun.
If drawing on popular cartoon culture will edge people toward better hygiene, the biomed veteran will not hesitate to use it. We asked Barbeau about his Looney Tunes-themed innovation and his plans to boost morale in the biomed department.
24×7: What are Sani-talkers?
Barbeau: Sani-talkers were a concept based on the hand sanitizers that you are seeing all over the place that are motion activated. You put your hand under a sensor, and it dispenses a small amount of sterile liquid into your hand. To promote hand hygiene at the hospital, I decided to make them sound activated—so when you put your hand under it, it will give you a message. The message could be anything from someone saying, "Thank you for choosing Saint Mary's Hospital," or it could be fun depending on where it is located.
For example, last month in Connecticut Children's Medical Center it was Looney Tunes—specifically, Tweety Bird. When you put your hand under it, Tweety says, "I tawt I taw a puddy tat!" They get a little laugh out of it. Sometimes you put your hand under it, and it is just a harp or a little sound bite of a Latin guitar playing. People really like it. I get a lot of feedback from vendors and visitors who think it is clever, and it makes them go to the sanitizer, or Sani-talker, to see what the message is. Consumption of those units has gone up considerably.
24×7: What other efforts have you taken to boost the team identity?
Barbeau: We have new white band bracelets with blue lettering. We are wearing them for the 24×7 pictures. They say "Live the Mission," and it has the hospital logo that is a cross within a circular design. Every employee is going to be getting one. It's not just about us. It's about what we can do for the hospital beyond just being the guys who fix things.
—GT