Biomeds seeking new avenues for broadening their career horizons can find opportunity in some traditionally unlikely places. Among them—the clinical laboratory. Those who learn the ins and outs of laboratory equipment servicing can put this distinct, specialized skill set to good use as field service reps for OEMs and at hospitals looking to reevaluate existing servicing options in the lab.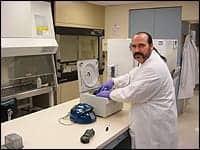 Kevin Melvin, BMET III, uses a digital photo tachometer to run a quality control check on a centrifuge in the pathology lab.
Lab equipment specialists work on a diverse range of lab equipment from complex, behemoth analyzers to more straightforward devices that operate on simple mechanics, such as centrifuges. Navigating the clinical lab may not be as difficult as one might think, especially given an aptitude for mechanics, the sciences, or even just a knack for getting to the root of a problem.
Jon Sears, a biomedical equipment support specialist at the Baltimore VA, has built his career out of servicing various devices in both hospitals and hospital labs. While much of the heavy-duty lab equipment at his hospital's clinical lab, such as its big chemistry and hematology analyzers, is under contract, Sears is completely responsible for a host of equipment not under service obligation, including the lab's centrifuges, much of the microbiology equipment, and the blood gas analyzers.
Sears even gets to tinker with some "under contract equipment"—if the specific service contract allows him a first look—and Sears keeps this equipment running smoothly in-between vendor service visits by fixing any minor mishaps that might arise. "I might clean the equipment for them, make sure the sensors are all clean, or work with the vendor over the phone and do any troubleshooting they would like to have done," he says.
Breaking In
For biomeds with existing experience in the lab, tasks such as these should be no sweat. Biomeds looking to break into the field will probably look to cut their teeth with some training. By far the most convenient place to learn the ropes is to go straight to the source—to the vendors themselves. Some major lab equipment vendors do offer specialized training to hospital biomeds, but will often charge hefty sums for it. While biomeds who become certified by a vendor can potentially help their hospitals skirt service contracts altogether, Sears says vendors are more interested in keeping at least some form of a contract. "A lot of manufacturers don't want to give up that control," he says. "They kind of make it a little difficult for you."
As a compromise, some vendors may offer a service partnership, which shares equipment servicing between hospital and vendor. "You still purchase a contract from them, but it's at a reduced cost and includes all the parts you need," Sears says. "The vendor will let you go work on their equipment, and when you get to a point where you're stuck, they'll go and send in their guy."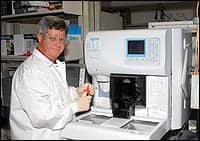 Jon Sears, a biomedical equipment support specialist at the Baltimore VA.
Sears knows a thing or two about vendor-hospital relations. He worked for a major vendor for more than 12 years, where he honed his skills in field service repairing nearly every type of lab equipment imaginable. While the frequent long nights on the road did not make it the right fit for him, Sears liked tackling new adventures. "I loved the traveling," he says. "You get to see different people, different problems, and different locations. You get that change of pace."
Barring vendor training, learning on the job can prove just as valuable to one's skill set. Kevin Melvin, a BMET III at Legacy Health System, Portland, Ore, was first exposed to the field during a biomedical internship where he performed preventive maintenance on centrifuges. As one of the few biomeds with previous experience, employers began to assign him to the lab more regularly. Now, Melvin has graduated to repairing a variety of small-scale lab equipment. "Day to day, my job is a combination of doing preventive maintenance, doing repairs, and making rounds," he says.
Assisting Melvin as he worked to pick up the finer points of the clinical lab was the solid grounding in various science disciplines he received in college. Melvin's background, if untraditional among typical biomeds, came in handy as he learned the lab. While earning a bachelor of arts degree in geology, Melvin took 2 years of biology in addition to classes in chemistry and physics, all of which he says can help laboratory biomeds learn how systems operate, which ultimately can make finding problems easier.
"If you've got an understanding of what the machine is trying to accomplish, you can figure out what the machine is doing for the lab," he says. "From that, you can figure out what's broken."
While understanding the science behind the equipment can bridge the divide between the lab and biomed, those with a strong mechanical competency may have an even greater edge. For all their nuances, lab equipment is still machinery, and biomeds can still fortunately rely on the same troubleshooting skills they use when working on other devices. "I certainly think those who excel with lab equipment have a good mechanical knowledge," Sears says. "That mechanical ability is what helps you break things down in your mind and figure out where things are going."
Putting Knowledge to the Test
Biomeds can also begin building a viable, sustainable career working in clinical labs by pursuing the Certified Laboratory Equipment Specialists (CLES) certification, from the Association for the Advancement of Medical Instrumentation (AAMI).
As is the case with AAMI's two other certifications, for radiology specialists and biomedical equipment technicians, those seeking certification must meet certain eligibility requirements. Eligibility routes to the CLES exam usually consist of either a relevant postsecondary degree coupled with a bit of related experience, a substantially longer tenure in the field, or some combination of education and experience.
| | |
| --- | --- |
| | Read past Focus On articles in the 24×7 archives. |
Applicable courses of study include a 2- or 4-year degree in electronics, biomedical engineering, or medical technology. Medical technology (or med tech) degrees are a little out of step with more hands-on, biomed-friendly paths, but they undoubtedly ground students in the fundamentals of the clinical lab, from blood banking, chemistry, and hematology, to immunology and microbiology. For those with existing skills in mechanics and repair, the med tech degree may level the playing field when it comes to lab science and technical jargon, and will even come in handy during the CLES exam.
Like other AAMI certification tests, the CLES consists of 150 questions with test takers needing to score at least 70%, or 105 questions, correct. In addition to specialized questions on laboratory equipment, the test also features a standard array of related subject matter from anatomy and physiology and chemistry to electronic equations.
Overall, well-rounded skills are imperative for keeping up with the clinical lab's numerous demands. As the landscape changes to allow more cooperation between the hospital and vendor, new opportunities can arise for biomeds with lab skills, and those planning to enter the clinical lab have plenty of ways to expand their knowledge and smooth the transition. "It's a unique skill set for any biomed," Melvin says, who takes care to note that focus and the ability to tackle problems solo are almost as important as background and training. "We don't function well when there's someone standing over us all the time. You also have to be self motivated."
---
Stephen Noonoo is the associate editor of 24×7. Contact him at .