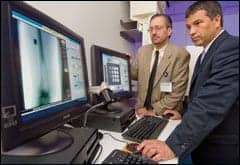 L-R, Tony Caruso, CCE, senior director of clinical engineering; and Grant Smith, operations manager, imaging services, clinical engineering department.
At the Duke University Health System in Durham, NC, the staff of the clinical engineering department are viewed not as people who just come to "fix stuff." They are members of the larger health care system's team—they strive to have good working relationships with other hospital departments, they sit on various hospital committees, and they focus on larger hospital goals, such as patient safety.
The Duke University Health System encompasses three hospitals that place a major focus on patient safety and quality: Duke Raleigh Hospital, with 186 private and semiprivate beds; Duke University Hospital, licensed for 924 acute care beds; and Durham Regional Hospital, which offers 369 acute care beds.
On its Web site, the organization pledges to provide "the highest quality health care and to maintain a safe environment." Efforts include evidence-based medicine, error prevention, patient and family engagement, response to concerns, and teamwork. As part of that team, clinical engineering also has embraced patient safety and quality as its major goals, and this focus has influenced many of the department's innovations over the past few years.
Tony Caruso, CCE, senior director of clinical engineering for the Duke University Health System, came on board about 3½ years ago as both a response to and an instigator of change. Shortly before his appointment, the Health System made the decision to investigate its numerous and costly service contracts and to bring service in-house wherever
possible to save costs and increase safety—a move that influenced the decision to hire him.
"Service contracts had been completely managed externally through vendors, and there were a lot of contracts," Caruso says. "I was hired to bring the contracts in and tie up the loose ends."
At the time of his appointment, the department also was reorganized into a hierarchy in which it reports to the chief information officer. Since Caruso's appointment, clinical engineering has expanded its role throughout the hospital, building stronger relationships with other departments and implementing new methods to achieve its own, and the organization's, goals.
"You want to put your face out there and become engaged with everything you can," Caruso says. "It makes you more important to the organization."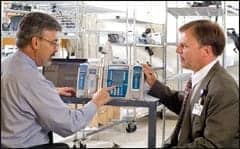 Glenn Scales, CBET, clinical engineering patient safety specialist, and David Welch, CBET, MLSO, evaluate a potential infusion device patient incident.
Getting Involved
The team sits on a number of committees throughout the hospital, and Caruso himself sits on the capital boards for all three hospitals in the system. Each hospital has a board, and there also is a diagnostic capital equipment committee that reviews purchases for the radiology and laboratory departments.
"When I came on board, finance came to me and asked for my help in developing the current capital process," Caruso says. In addition to having helped another facility successfully transition out of its OEM contracts, Caruso had experience in multiple service modalities, and he believes his experience at other facilities drew their attention.
Clinical engineering helps to ensure the right decisions are made before equipment is purchased in terms of function and safety as well as efficiency, which impacts profit and performance. "They realized what we could bring to procurement," Caruso says. "We provide the expert review so that every capital request goes through clinical engineering before it gets approved." Items are scored on a system that uses criteria such as the age of a technology, the availability of parts, the life cycle, and safety.
Because the department participates on the boards across the entire system, it also can standardize equipment, resulting in volume discounts, faster installations, easier training, more efficient use, and quicker verification. "We try to standardize as much as possible," Caruso says, citing infusion pumps, patient monitoring devices, and cardiac cath labs as examples. Standardization results not only in cost savings but also in improved quality. The experience gained in one area transfers to another area or another hospital in the system. "If there are three different infusion pumps used throughout the system, than the nurses have to learn all three, and the chances of making errors across the system are greater than if there is only one type of pump," Caruso says.
Training has become a key part of the acquisition process. "We built training into the purchase of new equipment so the staff stays up to date with incoming modalities," says Grant Smith, operations manager, imaging services, clinical engineering department, Duke University Health System.
On the Safe Side
One of the responsibilities Glenn Scales, CBET, patient safety specialist for the Duke University Health System, assumes in his seat on the patient safety committee is to help users maximize their use of technology while minimizing misuse. "A lot of what I do involves helping nurses, pharmacists, clinicians, and others better utilize the technology they have to work with," Scales says. "Both Grant and I are involved in helping people make better selections, better-informed decisions about which devices to use, how to employ them, and how to train their staff."
Scales' position of patient safety specialist was created about 2½ years ago. "Because Duke has such a high regard for the culture of safety, it made sense to have someone primarily focused on the medical equipment aspect of patient safety," Caruso says.
Scales was already employed as a biomed equipment specialist at Duke and had more than 30 years of experience in the field. He continues to hold technical responsibilities, but he also has a greater role on various committees and in safety efforts.
There is no typical day, according to Scales. "So much is dictated by what safety reports are submitted and what activities are going on in the department," he says. He supports clinical engineering with repair and preventive maintenance (PM) work typical of any biomedical equipment specialist; he sits on all patient safety committees and working groups, including dialysis and water quality committees; he investigates errors and incidents associated with the use of medical devices; and he participates in peer reviews for all technology-related adverse drug events.
The organization employs a Web-based safety reporting system that was developed internally. Scales monitors all of the equipment-related internal safety reporting system errors through that program, such as patient falls and malfunctioning infusion pumps. However, Scales' work is not only reactive, it is also proactive.
"Part of my role is preventive in that I work with a lot of decision-making groups in selecting new products and evaluating replacement products when upgrading from one generation to the next," Scales says. "I also help users determine how the technologies can be best used and how they can be misused."
David Welch, CBET, MLSO, represents clinical engineering similarly in laser safety. Welch is the operations manager of Durham Regional Hospital, where he oversees a staff of four and is the "go-to guy for laser questions across the health system," Caruso says. Caruso suspects that if Welch were to leave, two people would be needed to replace him: one with managerial experience and another with a laser background.
Smith fills this role within the medical imaging departments and radiation safety office. "Typically, someone in imaging needs to oversee imaging issues," Caruso says. "Imaging is a niche area and needs someone with a lot of experience in those modalities. Grant had that when he was brought in 2 years ago."
As the operation manager of imaging, a group started in February of 2007, Smith oversees a staff of eight in addition to the invoices, contract management, and inventory. Smith's knowledge made him not only a good candidate for the open manager position, but he also had significant imaging experience. Smith's expertise was key to achieving one of the primary goals of clinical engineering in hiring him: to bring as much imaging service as possible in-house.
The Duke Health Care System has multiple machines per modality. Smith estimates the inventory holds approximately 18 MRI and 16 CT devices, 150 ultrasound units, more than 20 vascular and cardiac cath labs, and 50-plus general radiology rooms. Smith's group ensures that parts and service are in place for all of this equipment. "There is lots of database work still taking place to make sure we have accurate documents throughout the health system and day-to-day business operations," Smith says.
Smith works with the Duke physicist group, sending them all of the PM information to keep them updated. "A big piece of what we do is promote imaging quality in our relations with the physicists," Smith says.
This work includes enforcing all radiation safety standards and regulations. The team seeks to ensure that devices are inspected not only at the levels required by the OEMs, but in some instances at higher standards set by the hospital itself. "We've created our own checklist attached to work orders and PMs to make sure everything is working, sometimes even beyond OEM specifications," Smith says. "We have equipment perform to tighter tolerances to make sure patients are not exposed to radiation and there are no radiation safety issues."
The higher standards are what sets Duke's program apart from others. "By making sure we have additional readings completed with every PM on radiation-producing devices, there is no chance of the patient being exposed to unneeded radiation," Smith says. It also can indicate when there might be a problem with the equipment. "Exposure indexes can sometimes tip us off to when equipment is not working properly. It's another way to have a snapshot of a potential problem that might otherwise be overlooked," he says.
Team Players
The clinical engineering department has another way to avoid problems that might not be noticed until found—literally. Shortly before Caruso's arrival, equipment cleaning and distribution was consolidated within the clinical engineering department; it had previously been spread over multiple departments with the pharmacy, for instance, handling infusion pumps and the pulmonary department handling aspirators.
Full-time employees from three departments—pharmacy, materials handling, and sterile processing—were combined into one department. "Clinical engineering was chosen to manage the group since 75% to 90% of the equipment are items we repair," Caruso says. He notes that the department also handles items outside of the realm of its repair, such as wheelchairs and stretchers. The move, however, has given clinical engineering more control over its inventory. As equipment has been consolidated and retired, the hospital has replaced the various manufacturers that had been held within individual departments with one single product. "We didn't need as much inventory on hand because we could recycle items when finished with a patient," Caruso says.
In addition, clinical engineering knows the location of the equipment that needs repair, which has helped with PM percentages. "How would you like to know where all of your difficult-to-find equipment is and have oversight of where that equipment is?" Caruso asks. "The equipment cleaning and distribution team scans each device and knows where it is, so they help us to round up equipment."
Reaching Out
In general, clinical engineering has found that being open to new responsibilities and new relationships has benefited the group and the hospital system. "When you reach out and try to have a positive relationship, you get respect back," Caruso says.
Nowhere has this been as evident as with nursing. "Most departments tend to have an adversarial relationship with nursing, but we always try to be there for them and to listen to what they have to say," Caruso says. This involves constant communication and reaching out. If Scales notices a trend on the safety reporting, he can reach out and suggest and/or lead related training. The effort has been worth it. "They consider us part of the integral team that provides patient care," Caruso says.
Similarly, clinical engineering also works closely with IT. Caruso attributes this in part to the fact that both departments report to the chief information officer, who had experience with clinical engineering in a previous position and assumed the responsibility from the chancellor just prior to Caruso's appointment.
"More and more of our systems talk to each other—patient monitors communicate with the patient information system, imaging modalities talk to PACS, lab equipment integrates with the LIS and EMR—so it makes more sense," Caruso says. "Everything talks to the network now, so we really need to have that relationship in place."
Two members of the clinical engineering department who are more technology-oriented act as liaisons between the two groups. They also sit on the security leadership council, which ensures that all of the equipment brought into the hospital is technologically safe, which minimizes the risk of viruses and spyware and ensures HIPAA compliance. "They are able to help us understand and pass on what we need to IT," Caruso says.
But communication should take place not just within the hospital's walls. The clinical engineering members also participate in related associations. "It keeps Duke's name out there and helps us keep up with new things," Caruso says.
Caruso is active with the Biomedical Advisory Council. Smith and Scales are active in the Association for the Advancement of Medical Instrumentation, work that Duke supports. "They recognize the value of having people like Grant and I give input into the national organizations," Scales says.
All three enjoy giving back to their peers, their field, and the next generation, but they also believe that they get more out of it than they put in. One way is with recruiting, which seems easier when active in an industry association. "People see that Duke is involved in the professional societies and activities," Scales says.
The volunteer effort also results in new ideas and solutions. "There are a lot of other folks with similar experience, and it becomes a wealth of information when you start to pool resources," Smith says. "You hear about others' growing pains. They become huge resources, and that helps us get our collective thoughts and efforts together in dealing with patient safety and other agendas."
This helps the whole team to get a fix on new trends and possible solutions to challenges so that they are able to further not only their goals, but also the hospital's.
---
Renee Diiulio is a contributing writer for 24×7. For more information, contact .