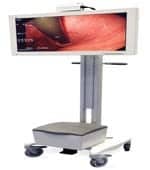 Quest International Inc, Irvine, Calif, a supplier of medical imaging display technologies and information technology solutions, announces the availability of the AlphaView battery-powered mobile video cart. The new wireless HD video, surgical display system feature a 32-inch, 2.3 megapixel medical-grade LCD on a heavy-duty battery-powered mobile cart.
Under typical operating conditions, the AVC2F4P-CART will power the 32-inch LCD monitor for up to eight hours between charges.
"Health care video applications are rapidly evolving and the introduction of the AlphaView battery-powered mobile cart allows facilities to adapt to these new demands," said Shawn Arshadi, president and CEO of Quest International. "Until now, surgical displays were typically mounted to booms or towers. With the AlphaView battery-powered mobile cart that valuable asset is now able to move where it's needed, when it's needed."
The AlphaView mobile video system ships complete with a medical-grade 32-inch HD LCD, heavy-duty rolling cart, foot pedal controlled height adjustable mounting column, 76.8 Ah (amp-hour) lithium-ion battery pack, and 60GHz HD video receiver and transmitter, allowing picture-perfect wireless reception up to 10 meters from the video source.
The 32-inch (1,920 x 1,080) medical-grade display produces HD images with more than two million pixels and a 1300:1 contrast ratio.
Other features and advantages of the surgical display include:
Clear 1080p artifact-free images.
178 degree viewing angle.
Anti-reflective protective overlay.
Full compatibility with most HD video camera systems.
Liquid drop safe aluminum enclosure.
A medically certified display: UL60601-1, FCC-B, CE, CCC, CAN/CSA, ICES-001, VCCI-B, Medical Class 1.
AlphaView offers a complete line of medical imaging, diagnostic, and surgical displays through Quest International.