Biomedical equipment technicians who hear the word "networking" and think first of a cocktail party or Facebook might want to consider a class on connectivity. While human connections are important, in the clinical/biomedical engineering world it is the links between points in a hospital's telecommunications system that can prove the most frustrating. As technology advances, more medical devices are able to connect and interact with the information and management systems that control health care networks. And the more they connect, the more clinical engineers and biomedical equipment technicians (BMETs) need to know about networking.
"We're connecting to the cloud more and more each day," says James R. Knight, CBET, supervising engineer of the Sonora Regional Medical Center of Adventist Health CES Sonora in Sonora, Calif. The cloud, he explains, refers to the invisible, Internet-based, connectivity surrounding institutions and urban centers. Greater connectivity can improve efficiency, increase control, and expand capabilities when used properly.
Connectivity is the unbiased transport of information packets between two endpoints, according to Knight. When that transport is blocked, problems arise with device operation. When devices have problems, BMETs get called. Those with networking knowledge can fix the problem. Those without cannot—or at least they cannot do so efficiently and without frustration. "I solve clinical problems by implementing networking answers," Knight summarizes.
Generally, connectivity problems are not a daily occurrence, but they can present an issue once or twice per week. "It's all about preparation," says Will Bonazelli, Network+, senior imaging specialist for Adventist Health Care. "The time to learn connectivity is before you are thrown out and trying to solve problems. With the correct preparation, the mean time to repair goes down significantly."
At Adventist Health, the correct preparation begins with training—and continues with training. Each BMET at Adventist Health is oriented with in-house basic training and encouraged to take advantage of outside educational opportunities, such as vendor-specific and general connectivity coursework. Four of the five technicians on Knight's team have Network+ certification.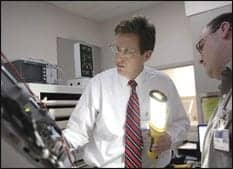 L-R: James R. Knight, CBET, and Glenn Pangburn, CBET, of Sonora Regional Medical Center check the collision detector circuitry of a nuclear medicine camera.
The investment in knowledge has paid off. Shorter repair times, greater equipment uptimes, more efficient operations, and satisfied employees all contribute to a healthier patient and bottom line.
Adventist's Philosophy
In 2008, clinical engineering services of Adventist Health for California, Oregon, and Washington saved the overall organization (based in Roseville, Calif) approximately $12 million in service expenses. It achieved this primarily through contract avoidance, enhanced relationships with OEMs, and the continuing move to a centralized parts procurement program, according to Jeffrey May, CBET, regional manager for Adventist Health-Corporate, clinical engineering services, Central and Northern California Region II. "We invest a significant portion of our annual operating budget into education and training for our biomedical engineering staff and modality specialists specifically for the purpose of eliminating contracts and expanding services and service coverage to improve the responsiveness to our customer's service requests," May says.
Services cover anesthesia, acute care medical equipment, the clinical laboratory, diagnostic radiology and PACS (including CT, CT/PET, MRI, mobile MRI and CT, nuclear medicine, and ultrasound), general medical equipment, medical lasers, patient monitoring, radiation therapy, respiratory therapy, and sterilizers. The few contracts held make "good business sense," May says, who estimates that 98% of the inventory is handled in-house.
"We are directly or indirectly responsible for all medical equipment service, meaning that if we don't directly repair it and maintain it, we manage the service through a contract or time and material agreement," May says.
That inventory holds some 32,000 devices. Their maintenance is structured using a modality concept, which incorporates both hospital-based biomedical engineering staff and field-based modality specialists. May counts 60 biomedical technicians and 24 modality specialists at Adventist Health, all of whom actively participate in continuing education activities. "Our education budget is close to a half-million dollars, and it is not uncommon for our biomedical equipment technicians and modality specialists to attend anywhere from one to three OEM-level training courses per year in addition to internal subject matter expert training," May says. It is this investment that enables Adventist Health to realize such large savings.
Basic Training
"We are trying to make a concerted effort to get people up to speed with the basics, such as basic networking knowledge, DICOM, and some vendor-specific training," Bonazelli says. "You have to be able to manipulate the machine to get it to do what you want it to do." The biggest challenge, he adds, is being able to do this on the many different types of equipment for which a BMET is responsible.
Networking can be especially troublesome without the right knowledge. "Connectivity issues aren't always the fastest issues to figure out, and making things talk to each other is not the easiest thing," says BMET II Joe Dorchuck, Network+. IT can help, but, ultimately, the responsibility for a device lies with the BMET. "When it comes to the piece of equipment, IT stops and biomed begins, most of the time because of medical equipment issues and IT not understanding how the piece of equipment works," Dorchuck says.
Adventist Health BMETs all know the basics because they review it in internal training. Knight organizes and teaches a 3-week course to new hires that focuses on the scientific principles of a device's measuring process, the clinical needs, and the clinical impediments to obtaining a good measurement. Topics include computerized maintenance management software (CMMS), noninvasive blood pressure monitors (NIBP), SpO2, ECG, infusion pumps, and electrical safety testing.
The effort is partly intended to improve communication between clinicians reporting problems and biomeds repairing them. "BMETs must understand how a machine acquires and processes the physiological parameter to be able talk to the nurse, who is speaking in physiological terms," Knight says. "They can translate that into what part of the machine is not working." If the BMET can elicit a good description of the problem, the knowledge can speed the solution and increase the mean time between failures.
This basic course does not cover networking, but outside opportunities do. "Network+ certification is a good start, even if you have to take it on your own," Bonazelli says, who notes it provides basic information on network topology.
Connecting Devices to IS
BMETs quickly learn there are different levels of connectivity, ranging from a device speaking to the hospital information system to the tracking of work orders through the CMMS to a BMET remotely diagnosing and even repairing a device problem.
In the first case, biomeds are often trying to solve a clinical problem by finding where in the network the problem lies. Simple troubleshooting skills, such as pinging and trace routing, are valuable tools. "A ping basically tests a modality, asking, 'Are you there?' " Dorchuck explains. No response indicates a networking problem. Trace routing can locate where, in a network path with multiple endpoints, the problem exists.
Networks do tend be reliable, and once set up they encounter few problems. "Where you run into trouble is when you want to do something new or change the workflow," Bonazelli says.
Knight recommends beginning any connectivity project with an Excel spreadsheet. "All devices have to be named and addressed the same with connectivity," Knight says. Then, identifying three essential units of information needed for every endpoint in a network: the MAC or media access control address, the IP or Internet protocol address, and AE or application entity title (sometimes called the device name in a PACS and sector name or bed name in patient monitoring). Knight also includes additional useful information, such as the device control number and manufacturer contact.
The data may change as the project progresses, but the organization of a spreadsheet makes managing those changes and discovering problems much easier. "They don't make AE titles simple, and if you make one mistake—even a lower case when it should be capitalized—it won't work," Bonazelli says.
Remote Control
Solving connectivity problems can take time, but it can sometimes be done from one's desk. With remote control, device issues can also sometimes be solved in the same way. "I think it's every guy's dream to sit at your laptop or desk or wherever and gain control of something that you are not near," Dorchuck says. Significant time can be saved through the avoidance of unnecessary travel with remote control. "We've got an imaging center off-site about 2 miles away, and they have a Fuji laser printer," Dorchuck says. "I have software on my laptop that will, when I hook up to the drop from the radiology network at my desk, allow me to connect to the printer and tell it to print a sheet of film or change the settings or add a modality." Normally, he would have to drive to the site to implement that change. The convenience can reduce modality downtime, eliminate patient inconvenience, and maintain successful revenue streams.
Remote diagnostics provide similar benefits. "Remote repair is an extremely valuable tool, especially when dealing with remote sites. You can get in and do an initial evaluation of the problem, review error logs, and have a course of action in mind, and order parts and have them waiting for you when you get there," Bonazelli says.
Adventist Health BMETs enjoy this capability with various networks. Dorchuck's team worked with the IT department to get the connection—or line drop, according to Dorchuck—that links the biomedical engineering department with the radiology network. In addition, the biomed shop is home to the network server rack for the hospital's central monitoring system, which covers the emergency department, intensive care units, and telemetry patients. "Most places would have it in the closet on a floor, but it came to our shop, which has given us complete control and the ability to troubleshoot," Dorchuck says.
When approaching a connectivity problem, Knight suggests keeping the big picture in mind. "Just because one solution works precisely well on this little one piece of hardware, you have to look into the future and ask what else you will connect to that and if the solution will work on that device as well," he says.
When one considers the spectrum of devices and other elements that will connect to the network, the solution usually becomes simpler because it incorporates a common denominator. Often, hardware can provide an easier solution.
Gone Paperless
Sometimes, however, software is the answer. Adventist Health clinical engineering services uses its CMMS program to act as the hub for the entire department. "The spokes are the BMETs, field service engineers, and vendors that provide us with parts," Knight says. PM procedures, work order documentation, parts ordering, and cross checking the general ledger spending to the CMMS have all been digitized. The strategy has created greater efficiency in biomed workflows.
By May of last year, the department went completely paperless. Each BMET carries a relatively inexpensive scanner/fax device, which he/she can use to upload any document that still happens to be on paper. Software loaded onto the device converts scanned documents to PDFs, making them attachable and searchable. "The entire story of a repair can be entered and shared very quickly," Knight says. "I no longer search for things. I don't have to go to anyone's desk for a PO or research the status of a problem. No one has to wait on hold for 35 minutes to obtain a part number." The device history is recorded, stored electronically, and searchable using any parameter.
Best Practices
Now that paper has been conquered, the team is building a quality assurance model that will assist with quality control and decision support. Data can be pulled when making recommendations for equipment replacement, measuring productivity, or ensuring proper procedures. A best practices committee designs processes to optimize the quality of services provided to each piece of equipment as well as to capitalize the organization correctly through asset management and life cycle projections.
"The purpose of the best practices committee is to ensure quality and consistency within the operation of our organization relative to preventive maintenance procedures and their frequency of preventive maintenance," May says. He currently sits on the committee of six whose members rotate and can come from corporate, regional, and local management.
Together, they determine the best PM procedures to follow for each device. "Rather than use a generic PM, we've actually built our preventive maintenance on the specific manufacturer model," May says. Instead of four simple steps, such as check power cord, check cable, complete performance test, and check electric safety, the procedure is often three to four times as long and much more specific. BMETs access the procedures, which are stored in the CMMS, using medTester devices. The bar code on the device to be maintained is scanned, and the system automatically calls up the step-by-step PM procedure. "Everyone answers the same questions and provides the same data, which makes it easier for managers to analyze," Knight says. Because nothing is written down but entered into the system, there is no possibility of losing the information.
"Our documentation is just about flawless now as opposed to when we filed everything," Knight says. The effort improves service quality and consistency, helping to keep devices running and maintain regulatory compliance.
Connectivity improves productivity, Knight notes. Ultimately, this is reflected in higher-quality services, greater efficiencies, happier employees, improved patient care, and better bottom lines. It's something to talk about at the next "networking" event.
---
Renee Diiulio is a contributing writer for 24×7. For more information, contact .
Online Education
For biomedical engineering technicians who do think networking is a party, there are many online resources to expand their knowledge into the networking of computers and devices, and many of them are free. The team at clinical engineering services, Adventist Health for California, Oregon, and Washington, recommended a number of sources they have found useful. They include:
Coursework
The team's recommended coursework includes:
—RD