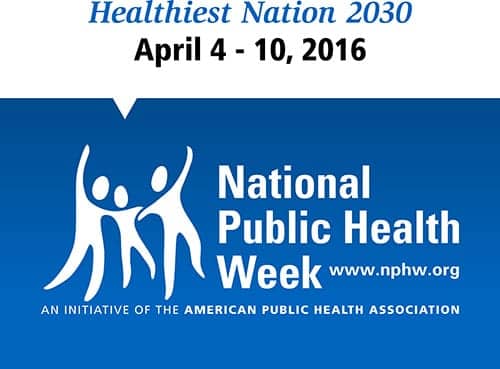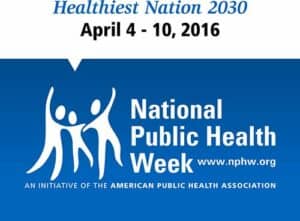 The American Public Health Association (APHA) has kicked off celebrations for National Public Health Week, April 4–10. This year's theme, "Healthiest Nation 2030," addresses efforts to improve the United States' public health standing among other developed countries within the next 14 years. To honor the campaign, a series of regional events is taking place around the country.
On April 5, APHA will host a webinar on safe drinking water in light of the Flint, Mich water crisis. And on April 10, Public Health Student Day, a virtual town hall will feature a discussion between United States Surgeon General Vice Admiral Vivek H. Murthy and students about how to improve public health around the country. APHA Student Assembly Chair Suparna Navale, a doctoral student at Kent State University Department of Epidemiology and Biostatistics, will provide opening remarks. (For a full list of events, see APHA's online directory.)
Nearly 100 individuals, groups, and organizations participated in the APHA's "We Can Do Better" contest, which called on participants to submit photos, videos, memes, or event pages that promoted a positive change in health behaviors. Winners can be viewed on the NPHW website.
President Obama has issued a presidential proclamation recognizing the contribution of public health workers and calls for activities to improve the health of our nation, and APHA has posted an online pledge where participants can affirm their commitment to supporting public health initiatives.
For more information, visit the National Public Health Week website.