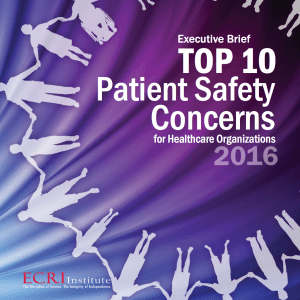 ECRI Institute has released its third annual list of Top 10 Patient Safety Concerns to help hospitals proactively identify key areas where patient safety may be an issue. Leading the 2016 list are challenges associated with incompatible health IT configurations and workflow, followed by patient identification errors and management of behavioral health issues in nonbehavioral health settings. Alarm hazards, which took first place in 2015, does not appear this year.
The highlighted issues are based on the more than 1.2 million safety events reported to ECRI's database since 2009, as well as published literature and judgment from experts in the field. "The list is not meant to be a formulaic algorithm that necessarily picks out the things that are most frequent and most severe," according to Bill Marella, MBA, executive director, PSO operations and analytics for ECRI. Instead, he says, "We're trying to pick out the things that are relatively novel or that are not necessarily new but are manifesting themselves in a new way because of changes in the healthcare system."
The 2016 list includes the following concerns:
Health IT configurations and organizational workflow that do not support each other
Patient identification errors
Inadequate management of behavioral health issues in nonbehavioral-health settings
Inadequate cleaning and disinfection of flexible endoscopes
Inadequate test-result reporting and follow-up
Inadequate monitoring for respiratory depression in patients prescribed opioids
Medication errors related to pounds and kilograms
Objects unintentionally retained in patients during surgery despite correct count
Inadequate antimicrobial stewardship
Failure to embrace a culture of safety
The top issue refers to the struggles healthcare personnel often face in adapting to a new health IT system. Although effective implementation requires organizations to configure the system to their workflow and vice versa, too often "after the implementation, people continue to do things the same way and really don't adjust the health IT system or their workflow," says Robert C. Giannini, patient safety analyst and consultant for ECRI. The lack of accurate, up-to-date information about a patient's medications and treatments can result in errors and delays in care, the report says.
Patient identification errors have also become more frequent and serious, according to the organization's database. Hospitals should work to improve staff's use of two identifiers to prevent mix-ups among patients, the report says. ECRI will be exploring the topic further in a Deep Dive published later this year.
Recent media reports have also brought more attention to threats to both patient and staff resulting from patient mental health issues. Patients may act violently due to psychiatric disorders, reactions to their treatment, or for other reasons, ECRI says. Hospital staff should undergo regular training to help them deal with these incidents should they occur. "It is so important to be proactive versus reactive to behavioral health needs," says Nancy Napolitano, a patient safety analyst and consultant for ECRI.
Additional items on the list have attracted increased attention in the last year. At George Mills' address during the 2015 AAMI conference, the director of the Department of Engineering for The Joint Commission made endoscope reprocessing one of his first points. In December 2015, the patient safety report Free from Harm, a follow-up to To Err Is Human, noted the field's slow progress in reducing medical errors and outlined eight steps for advancing a culture of safety. And opioids have come under general scrutiny since February, when the FDA called for a major review of the drugs amid reports of an opioid abuse epidemic.
As for the eighth item, unintentionally retained objects, Patient Safety Analyst Gail Horvath notes that "the surgical count is a human process that's very prone to error, especially in a busy environment where multiple things are happening simultaneously. In recognition of this it is important to take a systems and human factors approach to the prevention of unintentionally retained surgical items."
The full text of the report is available to members of ECRI Institute PSO and ECRI's Healthcare Risk Control program. An executive brief of the report is available for free download on the ECRI website (registration required).
Updated Wednesday, April 13, 1:05 PM PST.