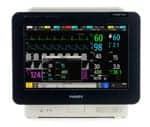 This month, Philips Healthcare introduced two new IntelliVue patient monitors, along with a new anesthesia machine, at the American Society of Anesthesiologists in San Francisco. The MX400 and 450 monitors are up to 10% lighter than the previous MP20 and 30 series, and come with a handle that can accommodate shifting center of gravity for enhanced portability. They are designed for easy cleaning and disinfection.
The new IntelliSave AX700 anesthesia machine communicates with the monitors via IntelliBridge, a single, standards-based point of interoperability. This system enables transfer of data from the AX700 to an anesthesia or clinical information system or hospital information system.
For more information, visit the Philips Healthcare website.