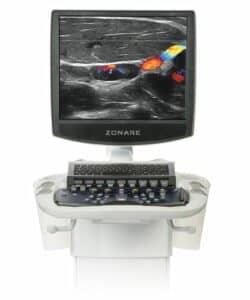 Zonare, a Boston-based subsidiary of Mindray Medical International that develops next-generation ultrasound technology, recently showcased its Zone Sonography Technology (ZST) at the annual American College of Emergency Physicians, held October 26–28, 2015.
Zonare reports that its ZST, which is the foundation of all the company's ultrasound systems, has helped emergency physicians improve diagnostics, even in the most difficult cases. The system is reportedly durable and has good image quality, improving patient outcomes.
ZST enables Advanced Acoustic Acquisition, a software technique that uses large zones to acquire 90% more echo data at speeds of up to 10 times faster than conventional systems. ZST also drives Dynamic Pixel Focusing, enabling every pixel to be automatically focused in every frame, at every depth. The technology is designed to eliminate manual focal zones and reveal structural clarity at depths up to 40 cm.
ZST is available on both Zonare's ZS3 premium ultrasound system and the Z.One Pro. The ZS3 premium ultrasound system provides good imaging performance, a 5-year investment protection program, and a range of transducers, including 1-20MHz for CEUS (Contrast Enhanced Ultrasound), an intraoperative curved array transducer (C9-3sp), and a high-frequency linear probe (L20-5). The Z.One Pro system is an all-purpose, durable, ergonomic system that covers all applications, from pediatrics to geriatrics.
For more informations visit the Zonare website.