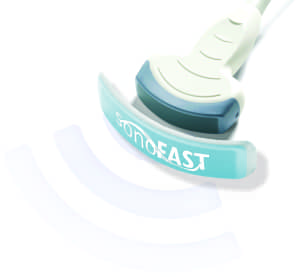 SonoFast Inc announced that it has retained Hatch Medical LLC, a medical device incubator and technology brokerage firm in Atlanta, Ga, to broker the license or sale of its dual-surface ultrasound-coupling hydrogel technology platform.
According to SonoFast, its new dual-surface solid hydrogel technology eliminates the need for ultrasound gel, which is used in ultrasound procedures to facilitate the transmission of sound waves from the ultrasound source to the patient.
The new technology incorporates an adhesive surface on one side, allowing for non-slip contact to the ultrasound probe or lithotripter. The opposing side provides a lubricious pad-to-patient surface, facilitating the movements of an ultrasound probe or the positioning of a patient undergoing lithotripsy with minimal residue. The material's acoustic properties are similar to that of water and tissue, the company says, resulting in minimal acoustic impedance and greater transmission of ultrasonic sound waves. The SonoFast pad is packaged for single patient use.
For more information, visit the Hatch Medical website.