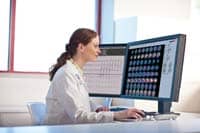 Carestream exhibited the potential for greater productivity and cost savings offered by its Carestream Vue for cardiology at the 2013 American College of Cardiology annual meeting and expo, held March 9 through 11 in San Francisco.
The company's Web-based Vue for cardiology consolidates reviews of echocardiography, cardiac cath, ECG, nuclear cardiology, and hemodynamic results and delivers a comparison of priors. On-site or remote reading of clinical data is available from any networked workstation.
"Consolidating different cardiology lab systems into a single workspace can deliver lower total cost of ownership," said Kiran Krishnamurthy, Carestream's worldwide product line manager of healthcare information solutions. "In addition to cost savings, our Vue for cardiology streamlines enterprise and remote access to medical images for more efficient diagnosis, reporting, storage, and distribution of clinical data."
Vue for Cardiology also expedites echocardiography reporting with structured templates, prepopulated measurements, and a single package for all echo procedures; and integrates ECG carts from multiple vendors to create worklist-based access to ECG wave forms so physicians do not need to search for patient files.