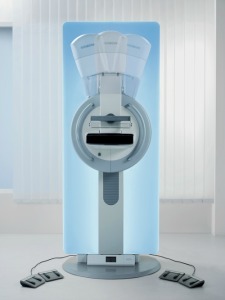 Siemens Healthcare has announced FDA approval of its breast tomosynthesis imaging system. The Siemens Mammomat Inspiration with Tomosynthesis Option is a breast tomosynthesis add-on option for the company's Mammomat Inspiration digital mammography platform. According to the company, the system's breast tomosynthesis algorithm reconstructs multiple 2D images of the breast into an approximation of a 3D image to enable detection of tumors that are hidden by overlapping breast tissue. This enables more accurate diagnosis than standard 2D digital mammography, reducing the number of false-positive findings.
In tomosynthesis mode, the x-ray tube of the Mammomat Inspiration digital mammography system rotates in a circular motion around the breast, acquiring an image every two degrees while moving through an angular range of 50 degrees. The resulting 25 projections are reconstructed as three-dimensional digital breast tomosynthesis images. Using this data set, clinicians can better analyze the type and size of breast lesions, which can remain obscured when using traditional mammography.
The company says that in a recent study involving 22 mammography readers with a broad range of reading experience, all readers improved their accuracy in detecting and diagnosing cancers when reading digital breast tomosynthesis as an adjunct to full-field digital mammography.
The new breast tomosynthesis option is available on the company's Mammomat Inspiration and Mammomat Inspiration Prime Edition digital mammography systems. For more information, visit Siemens Healthcare.