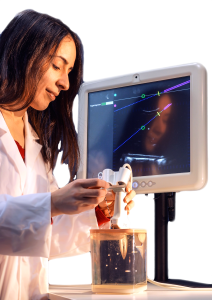 Clear Guide Medical, based in Baltimore, Md, announced that it has signed a Cooperative Research and Development Agreement (CRADA) with the US Army Institute of Surgical Research (USAISR) to test the physician performance enhancements possible when using the Clear Guide ONE and the VisiTIP needles.
The USAISR is a research organization serving military, academic, and industrial organizations that explores innovative solutions for trauma and combat casualty care. Clear Guide Medical will partner with USAISR principal investigator Jose Salinas, PhD, to test how the Clear Guide One can improve the speed and effectiveness of medical procedures such as vessel cannulation in emergency procedures.
"We are very excited about this partnership with USAISR," said Dorothee Heisenberg, CEO at Clear Guide Medical. "USAISR is widely acknowledged to be at the forefront of medical technology innovation. Through this partnership we look forward to applying our Computer Assisted Instrument Guidance technology to a number of issues that USAISR is addressing."
According to the company, its Clear Guide One system is designed to advance the practice of interventional medicine with a compact, ergonomic ultrasound probe attachment. The system requires no specialized instrumentation, sensors, or calibration steps, and an "always on" guidance feature allows physicians to quickly and easily hit their target.
The Clear Guide One can be attached to most commercially available ultrasound systems, says the company, making its ultrasound guidance available for most needle- and catheter-based procedures.
For more information about the Clear Guide One, as well as the company's Clear Guide EDU training system, visit the Clear Guide Medical website.