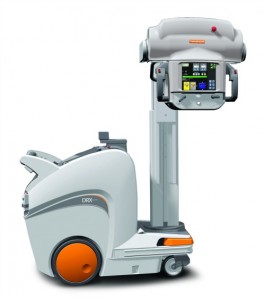 The latest MD Buyline report for the first quarter of 2015 has recognized Carestream as the top vendor in the portable digital radiography (DR) systems category for its DRX-Revolution system. The company tied with Siemens Medical Solutions as the top vendor in the fixed, room-based radiographic systems category for its DRX-Evolution and DRX-Ascend systems. MD Buyline ranks vendors according to user satisfaction ratings in the areas of system performance, reliability, installation/implementation, applications training, service response time, and service repair quality.
The DRX-Revolution includes features such as a collapsible tube column, tube/line visualization software, grid alignment, high kW power capacity, and built-in caddies. According to the report, several hospitals have also acquired Carestream's small-format DRX 2530C cesium iodide detectors to meet imaging needs in the neonatal intensive care unit (NICU) and for orthopaedic surgery and other applications. The report recognized high performance and customer satisfaction with the company's family of DRX-1C and DRX 2530C cesium iodide detectors and the DRX-1 detector.
In addition to its portfolio of in-room and mobile DR systems, the company offers the ability to retrofit existing equipment. For more information, visit the Carestream website.