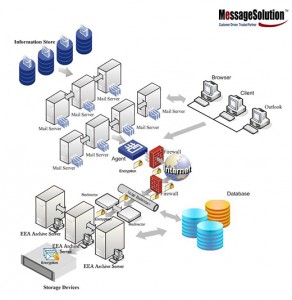 MessageSolution, an enterprise-class archiving and ediscovery company, recently showcased its MessageSolution medical image archive and vendor neutral archive (VNA) solution at the HIMSS 2015 annual conference. The most recent addition to the company's HIPAA-compliance enterprise archiving ediscovery platform, the MessageSolution medical image archive is available as on-premise and cloud-based solutions. According to the company, the DICOM and standard-based system enables centralized image sharing for remote viewing cross-country, lowers storage costs of medical image archiving, reduces picture archive communication system (PACS) upgrade costs, and manages image retention.
The platform is capable of integration with Microsoft SharePoint's viewing capability, allowing organizations to leverage their ROI in SharePoint to deploy the MessageSolution archive. The system also allows users to view archived medical image studies seamlessly from SharePoint or an electronic medical record and is accessible from a desktop, laptop, tablet, and other mobile devices.
The MessageSolution archive acts as a hub for centralized medical image sharing and significantly improves interoperability for hospitals and healthcare providers, says the company. Doctors and healthcare professionals across departments can locate, access, and retrieve x-ray studies, PET scans, and MRIs within seconds. Healthcare providers can also securely share images and reports online with non-affiliated hospitals or healthcare organizations to reduce shipping costs.
For more information about the company's image archiving and eDiscovery solutions, visit the MessageSolution website.